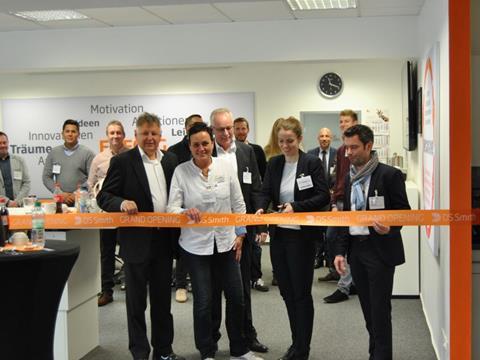 DS Smith has officially opened a new PackRight Centre in Germany. The new Centre is based in Hövelhof, and will be the sixth to open in the Germany – Switzerland region since the opening of the first Centre in Hamburg in May 2016.
DS Smith's approach is unique within the packaging industry. Taking into account the complete supply cycle and the latest shopper, retail and market trends, DS Smith develops innovative and creative display and packaging concepts in collaboration with a range of individuals from within its customer's business. The solutions developed in this way help to increase the sales of customers and reduce risks and costs.
"The PackRight Centres are a real success story for our customers," emphasised Tom Wetzel, Sector Director Consumer Packaging & Display at DS Smith Germany and Switzerland Region, on the occasion of the official opening in Hövelhof. "The discussions with our customers show that we are on the right track with our holistic approach and that our display and packaging concepts generate concrete added value for our customers. We are delighted about this and that is why we are opening our sixth PackRight Centre in the region of Germany and Switzerland here in Hövelhof today."
Marion Mandalka, Head of the new PackRight Centre in Hövelhof, added: "It is important for our customers that their display or packaging solutions perform optimally throughout the entire supply cycle and reduce complexity. This is why different people from different areas of our customer's businesses attend our PackRight Centre workshops, coming for example from marketing, supply chain, production and purchasing. We analyse the most important trends and insights along with the market environment of our respective customers in advance and can draw on the entire know-how of the DS Smith Group during the workshop. Within just one day and together with our customers, we manage to develop a product that can be put into practice. One advantage of our strategic approach is therefore to reduce costly coordination processes at the customer's premises to a minimum. Our concept significantly shortens the time to market for our customers, who will be able to get their products into the market much faster."
At the official opening, the invited guests not only had the opportunity to take a detailed look around the PackRight Centre and the Hövelhof plant, but also to learn more about the latest trends and experience virtual reality live. Customers had the chance to enter a virtual packaging world and try out various packaging and display trends directly in a virtual supermarket. A presentation on trends at Point Of Sale 2025 rounded off the programme.
"With the new PackRight Centre, we can deliver tangible results to our customers even faster," commented Reinhold Brunnert, General Manager of DS Smith's Hövelhof site. "It is an important cornerstone to position ourselves for the future of our customers."
And growth continues. The company has announced that it will open another PackRight Centre in the Germany and Switzerland region in early 2018.
More info: