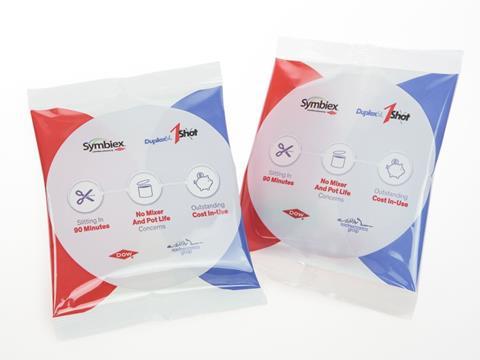 The Dow Chemical Company has announced that SYMBIEX™ Solventless Adhesive, Dow's ultra-fast curing adhesive introduced to the market at drupa 2016 together with Nordmeccanica's Duplex SL One Shot™ lamination line, has been granted global food approval for use in the production of barrier laminates in Europe, the U.S. and China.
"This is a significant milestone in the development of the technology, as it can now be used to add value across all applications in the general to low-end medium performance range, including substrates where solventless technology historically has been behind solvent-based solutions in terms of process efficiency," says Tim Usalev, global market development manager adhesives at Dow.
Improved productivity and cost management
As a further development of this breakthrough innovation, web speed improvements from 25% up to 50% combined with excellent surface quality can be achieved when used on metallized PET / PET, ALU / PET and OPA / PE-EVOH substrates.
Because there are no pot life concerns and first-class curing performance being evident, customers report significant cost savings opportunities thanks to:
• Equipment simplification: No need for a mixer and heating room.
• Immediate cash flow improvement through reductions in inventories held.
• Increased efficiency: Less line downtime due to reduced cleaning frequency and an additional opportunity for further productivity gains.
• Material savings: Reductions in scrap because bond quality checking is possible 30 minutes after lamination.
Game-changing conversion efficiency Besides productivity and cost improvements, the technology remains first in class when it comes to providing laminators with versatility and flexibility to their operations. With food compliance reached as early as 24 hours after lamination – as compared to traditionally 3 to 4 days –, SYMBIEX™ is a key enabler to help meet customer needs for fast and most effective supply of packaging.
Compared to a traditional lamination line, the Duplex SL One Shot™ laminator from Nordmeccanica features a unique system to handle the solventless lamination, enabling the two adhesive components to come into contact as late as possible in the process. With two independent high-precision coating stations, the two films are pressed together only in the lamination nip station where the curing of the SYMBIEX™ adhesive takes place. This method eliminates the need of a mixing unit and hence pot life concerns, and offers reduced line downtime and easy cleaning.
Commercial success worldwide
"Ever since its introduction to the market, the technology combination gained huge attention and we celebrate the installation of several Duplex SL One Shot™ laminator lines at early adopters worldwide, such as Constantia Jeanne D'Arc in Europe and Schur® Star Systems in the U.S.," comments Vincenzo Cerciello, Vice President Technology at Nordmeccanica Group. "These global installations will lead to more packaging manufacturers and brand owners improving their operations and achieving their business objectives to address growing industry demand for fast and sustainable packaging."