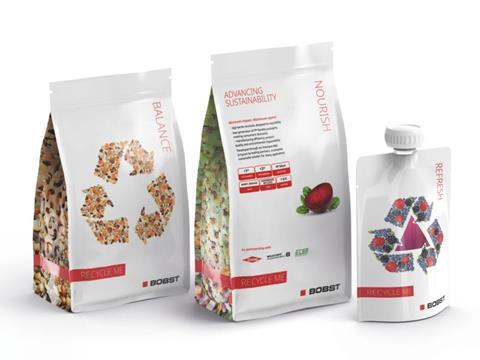 Thanks to the joint development with machine manufacturer BOBST, extrusion converter Hosokawa Alpine and packaging producer ELBA, Dow will present a selection of polyethylene-based(PE) pouches that the company says allow for the production of medium-to-high barrier packaging with machine direction oriented (MDO) films designed for recyclability.
Prototypes will be on display at K 2019 at the stands of the companies: Dow (stand K48, hall 8a), BOBST (stand A39, Hall 4), Hosokawa Alpine (stand D06, Hall 16) and ELBA (stand D36, Hall 3).
"One of the biggest challenges in designing PE-based packaging for recyclability is to incorporate barrier functionalities that are today carried out by different materials in multimaterial structures," said Jaroslaw Jelinek, EMEA marketing manager at Dow Packaging & Specialty Plastics. "Thanks to our Pack Studios expertise fuelled by strong industry collaborations we have developed our next generation of high-performance resins to help enabling the production of PE-based mono-material packaging solutions that are designed for recyclability."
In combining state-of-the-art MDO conversion machinery with Dow's PE-based polymers, similar production efficiency to existing multi-material packaging structures has been achieved. Dow products enabling this solution include: ELITE™ resins for remarkable stiffness, thermal resistance, optics and a wide enough orientation window which is important for the MDO process; NUCREL™ copolymers to create a suitable surface for the coating and metallization; INNATE™ precision resins for balanced toughness and stiffness as well as enhanced dimensional performance; and AFFINITY™ sealants to provide a low seal temperature and good operating window on the packaging line.
"We must work to find solutions that are efficient, innovative and that can lead to a circular economy," said Romain Cazenave, EMEA marketing director at Dow Packaging & Specialty Plastics. "The array of prototypes we are presenting at K 2019, such as the one developed together with BOBST, Hosokawa Alpine and ELBA, clearly demonstrates that mono-material PE-based packaging is the future, contributing to move the industry towards recyclable packaging."
Dow will be showcasing this solution as part of their design for recyclability portfolio and a broad range of products enabling a transition to a circular economy on their stand (K48, Hall 8a) at K 2019.