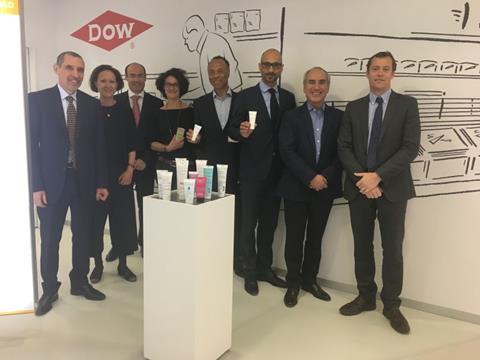 The Dow Chemical Company's Packaging and Specialty Plastics business (P&SP) has teamed up with PumpArt System, a French packaging designer crowdfunded by Wiseed. This new partnership will drive further market development of a high efficiency tube, designed to minimize waste and help protect the product formula and the environment.
Bridging the gap between plastic tubes, soft pouches and airless pump bottles, the patented Tubairless® system was created by the packaging engineering company PumpArt System to dramatically reduce product waste by up to 80%. Whereas traditional tubes only dispense around 75-80% of contents – leaving frustrated consumers cutting off the ends to reach any remaining product – the ground-breaking Tubairless® design has a much higher evacuation rate of almost 100%, without resorting to a pump.
The design has already proved popular with cosmetics companies in Europe. Now, thanks to a comarketing agreement signed in Dow's Pack Studios Centre in Horgen, Switzerland, plans are to bring the technology to the next level, enabling further international outreach along with an extension to the food and beverage sectors.
"Pack Studios is a Dow-led international center for collaboration, designed to help operators throughout the value chain increase efficiency of distribution and reduce waste through well-designed packaging," said Fabrice Digonnet, Dow's EMEA lead for New Business Development. "PumpArt's Tubairless® system is exactly the kind of packaging initiative we want to support – it's driven by environmental responsibility and also delivers more consumer convenience, excellent ergonomics and enhanced preservation of ingredients, all combining to create a packaging system fit for the 21st century."
The Tubairless® design is the first airless squeezable tube that does not require a dispensing pump and retains its shape. Not only does this mean safe packaging for formulations sensitive to air contact, it reduces use of plastic parts by up to 65%, which is better for the environment. With less raw materials required for manufacture, the tubes are also lighter weight than pump-driven alternatives, reducing the CO2 footprint from transport.
Keeping consumer convenience front of mind, the tube's innovative venthole design enables accurate flow control, efficient dispensing even on thick formulas, and ease of use in any 360⁰ position. In addition, by retaining its shape until the last drop, the forward-thinking design enables brand owners' messaging to remain intact.
"We designed the Tubairless® system to combine incredibly high functionality and supreme quality with utmost consideration for the environment," explained Xavier Sutty, CEO of PumpArt System. "It's already proved to be very popular with mid-size European cosmetics producers thanks to enhanced preservation of ingredients and its ability to deliver every last drop of product as smoothly as the first. Thanks to this agreement with Dow, Pumpart System will be able to play on a much bigger scale.
"Dow Packaging and Specialty Plastics is highly regarded as a leading innovator and collaborator in its field, and for its commitment to sustainable application development across the value chain – the company's ability to pull together key stakeholders such as brand owners, equipment manufacturers and converters will help take Tubairless® to the next level, accelerating the commercialization of the technology on a global scale and enabling extension into new applications."
"We are looking forward to working with Dow's experts in order to optimize Tubairless® for food applications" said Jérôme Boumnso, CTO of Pumpart System.
Stephanie Savel, CEO of Wiseed, the crowdfunding company working with Pumpart System, commented, "The investors in Pumpart System via Wiseed, are pleased with this very promising agreement for the development of the company. Something rare enough to be highlighted: it is part of an industrial strategy of Dow, marking a real desire to integrate Pumpart System's technology in its commercial approach."