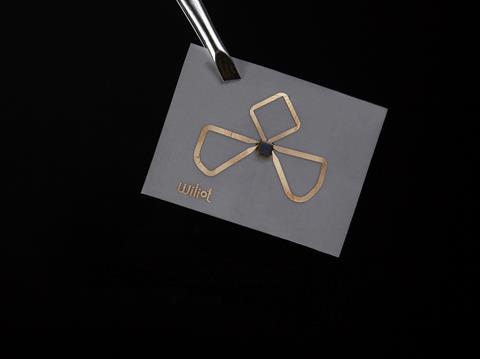 Electronic tracking of medication, flexible electronic connectivity, and battery-free sensor tags? These all sound like they are straight from an alternate universe in a Philip K. Dick novel; however, innovation today in the real world is smart. Libby White explores the potential of three cutting-edge solutions in printed electronics and their applications in the packaging industry.
The global printed electronics market is expected to reach USD 17.26 billion by 2025, at a CAGR of 11.21 per cent from 2018 to 2025, according to the 2017 Fior Markets report spotlighting this technology. It points to increasing Internet of Things penetration, the evolvement of digital print technology, low cost of manufacturing, demand for robust and flexible substrates for producing secure printed electronics, and eco-friendly technology as the major trends. The rise of digital print technology has also increased the adoption of printed electronics globally.
Connectivity
PragmatIC, a leader in ultra-low cost flexible electronics, has announced the first products in its ConnectIC family, the PR1101 and PR1102 flexible integrated circuits, designed for use in closed HF RFID systems.
Developed using PragmatIC's platform of patented technologies, these FlexICs are ultra-thin and flexible; suitable for embedding into a wide range of substrates, including paper and plastic; and reduce the complexity of inlays by using single layer antennas, delivering a further step down in cost to brand owners and retailers. Aimed at FMCGs and other mass market applications, electronic connectivity is no longer limited to high value, luxury items.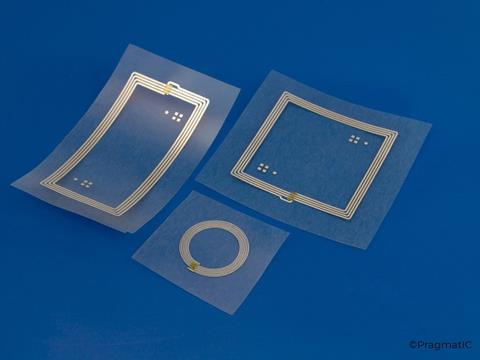 The PR1100 product series facilitates rapid detection of objects when one or more low-cost custom readers are integrated into the system. Designed for proximity identification applications, these FlexICs are suitable for applications including hierarchical inventory management, item identification and tracking, supply chain assurance and brand authentication. They are targeted at market segments such as food and beverage, personal and home care, pharmaceutical and healthcare.
"The ConnectIC family is set to bring connectivity to items we buy every day," says Scott White, CEO of PragmatIC. "We have already started shipping to our partners and we anticipate rapid expansion based on clear opportunities for global customers with extensive brand portfolios who wish to add traceability and interactivity to their products."
Digital therapy monitoring
Schreiner MediPharm's new 'Smart Vial Kit' enables electronic tracking and monitoring of medication dispensing and intake. The Kit is a multi-vial box covered with a cardboard layer of continuously numbered, perforated areas corresponding to the individual compartments. When the user opens a perforation at the starter tab the removal of the vial will be tracked by means of integrated, printed electronics.
For the purpose of tracking, data are generated in real time – such as the exact removal time, the compartment from which the vial was removed and the respective medication. All data are automatically stored in the smart packaging and can be read via a smartphone app using NFC (Near Field Communication) or Bluetooth and transmitted to a data platform for further analysis. As a result, the medication dispensed to a patient can be precisely tracked and monitored.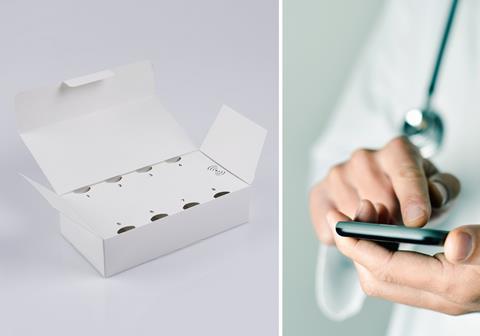 The Smart Vial Kit can be optionally complemented by temperature monitoring which is particularly important for temperature-sensitive, liquid substances such as biopharmaceuticals. Additionally, via the associated app, diverse information can be exchanged or a reminder function integrated. The Smart Vial Kit is well-suited for use in clinical trials: owing to the solution's medication adherence monitoring capability, enhanced and more reliable data quality is achieved.
Compared with conventional, manual monitoring, the digital tool reduces documentation requirements, provides greater flexibility in adapting trial designs and reduces the trial period before the new medicine is approved. The smart packaging technology is also adaptable to other primary containers such as syringes. Instead of cardboard boxes, blister packs containing several containers can be equipped with the technology as well.
Battery-free
Anticipating a future where paper thin battery-free Bluetooth sensors connect people with packaging and products, Wiliot and Avery Dennison discuss the potential of the first battery-free Bluetooth® sticker sensor tag, which has recently raised a $30 million series B for a total of $50 million in funding.
A Wiliot chip glued to a simple antenna printed on plastic or paper can authenticate the proximity of a product by transmitting an encrypted serial number along with weight and temperature data from a device the size of a postage stamp. Eliminating most of the components associated with traditional Bluetooth, these tags lower sale and maintenance costs to previously unachievable levels. The tags use Wiliot's breakthrough in nanowatt computing to communicate with any device enabled by Bluetooth Low Energy, such as smartphones, Wi-Fi access points and Internet of Things devices that can connect to digital displays, Wi-Fi and LTE cellular networks.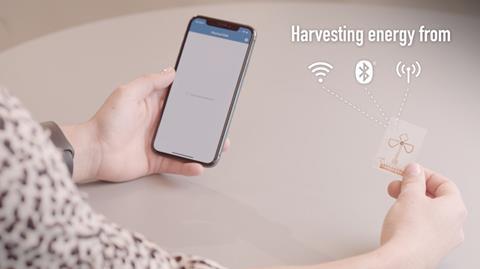 Steve Statler, SVP marketing & business development, Wiliot explains the journey so far and Francisco Melo, VP & GM, Global RFID, Avery Dennison outlines why they have invested in this potentially ground-breaking technology.
Steve Statler shares, "Wiliot has been working on this technology since its inception in 2017. We're at a point now where we have a working concept, and this funding will help us take the vital next step towards full commercialisation.
"That's one area in which we see Avery Dennison's participation in the round as a strategic investor and partner as extremely exciting. The manufacturing expertise within the organisation when it comes to making packaging and labelling innovation commercially viable at scale will certainly help us drive forward towards our goal."
Francisco Melo adds: "The fact this sensor tag communicates via the Bluetooth standard makes it very interesting – it delivers functionality outside the realm of RFID tags, enabling seamless interaction for consumers using their smartphones rather than requiring specialist hardware. Understanding how consumers use and interact with products beyond the point of sale – for some time a closed door to brands – is a vital part of enabling full end-to-end supply chain insight, and this technology has the potential to complement existing and future RFID- and QR-based solutions.
"And, of course, sustainability is increasingly becoming a top priority for brands and consumers alike. The fact that the Wiliot Bluetooth sensor tag runs off energy harvested from ambient radio frequencies, rather than an on-board battery, not only means that it can in theory run indefinitely–significantly reducing cost and waste – but also that it can be disposed of much more sustainably."