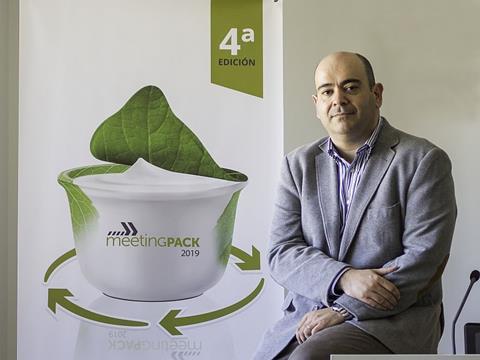 The EU has set a series of very ambitious, and at the same time necessary, targets by 2030. All plastic packaging on the EU market must be reusable or cost-effectively recycled.
Given these new challenges, a period of change and adaptation is foreseen in the packaging sector that will address the entire value chain and take into account the entire life cycle of packaging. The circular economy, recycling, eco-design and the use of biomaterials will set trends in new developments.
MeetingPack 2019 will address the sustainability challenge faced by the plastics industry. The event's business manager, Sergio Giménez talks to Elisabeth Skoda about challenges and possible solutions.
• How well is the industry on track to reach the goal of only producing reusable or recyclable packaging by 2030?
The industry is already doing a lot, such as the voluntary agreement on recyclability. However, barrier packages, as they are multilayer structures, pose a major challenge. In this sense, we still have a long way to go both regarding the development of the materials and also regarding the waste management process in terms of collection, separation and recycling to make the process both technically and financially viable.
• What are the specific challenges when creating sustainable packaging that still retains its barrier properties?
Strategies are focused on reducing the multilayer structures either by materials as compatible as possible from the point of view of recycling or by the use of coatings that can obtain good properties with less quantity of material. We must also take into account biodegradable and compostable materials in multilayer structures, which can be a good solution in certain applications.
• How does the industry react to the negative press that plastic packaging has received in recent months?
The negative campaigns regarding plastics are coming mainly from an end-user perspective since there is an emotional component rather than technical. Currently, there are companies thinking that any alternative to plastic is better and this is a terrible mistake. We must be objective through analyses such as Life Cycle Assessment (LCA) and Product Carbon Footprint (PCF) assessments. Thanks to them, we can determine objectively which is the best environmental option in each case, regardless of the material. I'm confident that plastics will do well as sustainable material, and that at atechnical level it is better than the rest of the materials in most cases.
• Have there been any particular innovations that stood out for you in recent months?
Some examples are coating-based multilayer structures, 100% barrier and compostable multilayer structures, compatibilising additives to improve the recycling and mechanical and chemical recycling of multilayers and also the use of recycled materials in food-contact packaging, in some cases up to 100%.
• What can visitors expect from Meetingpack 2019?
This edition of MeetingPack is focused on sustainability, so we will discuss the solutions that companies are implementing to adapt to the European strategy on Circular Economy both at raw material and final product level and recyclability and certification.We will see the solutions from a global perspective and applied in all types of packaging, both flexible and rigid. Another key point is to become familiar with the strategies of large food companies in terms of sustainability, such as Unilever, Danone or AMC among others.