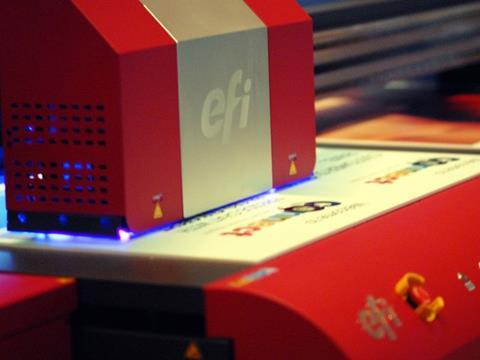 He observes that companies who survived since the 1980s have several things in common: They embrace digital print and print beyond paper, they define markets and excel at them, and they cut costs without cutting quality. He points out that the 'new print' is all about putting spectacular images on essentially any material.
"With digital inkjet technology and automation, the 'new print' brings immense opportunity in the era of the fourth industrial revolution."
Production opportunities with advanced inkjet innovations
Fast, sustainable, and superior-quality wide- and superwide-format inkjet imaging technologies were prominent at Connect, including technologies customers can use to move into fast-growing soft signage and industrial packaging applications. Printers on display at the show included the EFI VUTEk FabriVU 340 soft-signage fabric printer, the VUTEk 3r roll-to-roll LED printer, the EFI VUTEk GS3250LX Pro hybrid LED printer and the new EFI Pro 24f dedicated flatbed LED printer. EFI also showcased a new virtual reality demo of the EFI Nozomi C18000 ultra-high-speed single-pass LED inkjet corrugated packaging press.
EFI partner Ricoh Americas Corp. also featured EFI inkjet technology, with the versatile, 65-inch wide EFI Pro 16h hybrid LED printer running in its booth at Connect. At the event, Ricoh unveiled new gamification and cookies-enablement features for its Clickable Paper™. It leverages Ricoh's Visual Search image recognition technology to enable communications to reach beyond the printed page by linking printed materials to rich online media sources, enabling marketers and other users to make print interactive quickly and easily, as it does not require any special markings such as QR codes.
Streamlined digital production printing with EFI Fiery technology
Several partners, including Ricoh, Xerox, Konica Minolta® Business Solutions U.S.A., Inc. and Riso, showcased print engines running EFI Fiery® digital front ends (DFEs). The new, scalable Fiery FS300 Pro DFE platform used in several new print engines from EFI partners can handle high-speed sheetfed and ultra-high-speed continuous-feed B1 production and offers new features for superior colour, performance, usability and integration.
EFI partners' new Fiery-based DFEs include the new version 6 of Fiery Command WorkStation® – a highly advanced user interface with new preview, search and reprint functions that can serve as the single point of control for multiple Fiery Driven™ production devices. EFI also demonstrated upcoming Fiery products: Fiery Command WorkStation for wide- and superwide-format inkjet and Fiery Navigator™ dashboard analytics for wide- and superwide-format inkjet.
Additional partners participating in Connect's solutions centre included Enfocus, Esko, Kodak™, Motioncutter®, X-Rite® Pantone®, Xeikon and Zünd®.
More info: