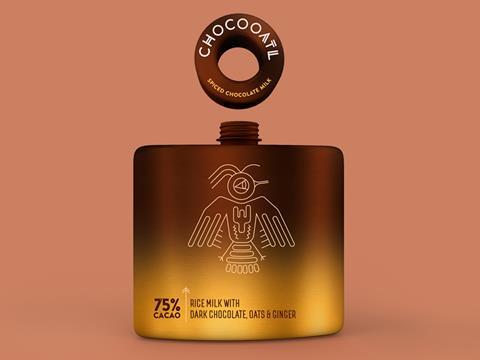 Emulating the traditional hip flask, the structure is made from aluminium, much like a tin can, but shaped to mimic the iconic contours of the traditional hip flask. Using such a format allows the brand concept to embody certain historical and culturally prevalent characteristics; the format cue clearly communicates this is a product for adults, ones who aspire to a degree of high class and also adults who perhaps, aspirationally or otherwise, have a rather puckish element to their personalities.
The cylindrical screw top is a modern twist on the hip flask's traditional captive top and serves to proudly showcase the brand name. Using this format also helps create a sense of occasion and ceremony, instantly elevating the product into something rather extraordinary.
Chocoooatl's brand name was inspired by the etymology of the word chocolate, traced back to the Aztec word "xocoatl", which referred to a bitter drink brewed from cacao beans. Very much a "food of the gods" this beverage was often infused with similar more complex and adult ingredients.
The graphic design pays homage to this rich and mystical history with each unique illustration providing a grand and somewhat esoteric look and feel - with birds, of course, being considered sacred and divine in Aztec culture. The earthy and rich colour gradients on the pack, together with the sheen finish akin to the traditional steel hip flask, help to add to the overall premium look and feel of the range.
Chocooatl is designed to appeal to a mature, worldly, and adventurous consumer in search of true indulgence and is designed to be enjoyed as an afternoon or evening ritual.