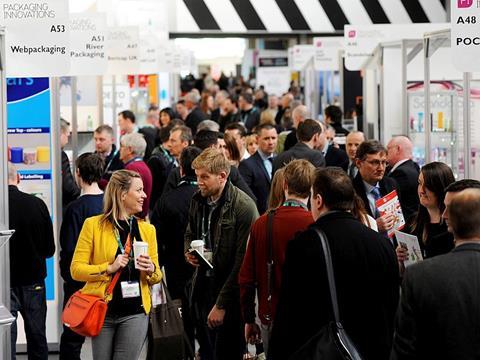 Packaging Innovations, Empack and Label&Print 2019 will host six dedicated industry forums - drinks, food, pharma, beauty, ecommerce and retail – when the show returns to Birmingham's NEC, alongside Contract Pack and Ecopack, on 27 & 28 February.
James Drake-Brockman, Divisional Director of Easyfairs' Packaging Portfolio, comments: "Each Forum has been tailored for a specific industry, providing packaging professionals with detailed advice, inspiration, and insight into the latest concepts from within their sector. From the plastics in packaging issue and sustainability through to technology and designing eye-catching packaging, all the key issues a packaging buyer faces will be covered. We are thrilled to have so many speakers on board this year and I can't wait to see what the reaction to the Forums is once the doors open."
DrinksFirst up on the Drinks Forum will be Design Specialist, Lee Buffham-Wade from LW Creative Services, who will discuss how brands in the drinks industry can utilise their packaging to cut through the noise of a crowded market. He will offer his insights into successful design thinking for both startups and big-name brands, reference his recent work with Finlandia Vodka and focuse on how to 'power your packaging'.
Romina Mariano, Global Senior Brand Manager at Kahlúa Pernod-Ricard, will also be taking to the Industry Forum Stage to discuss how the world's leading coffee liqueur brand has been able to package an espresso martini in a tin, without compromising on quality.
Food With the increasing consumer concern over the environmental costs of food packaging dominating the news agenda, sustainability will be a key focus on the Food Forum. Commencing discussions will be Oliver Revill, Gousto's Senior Packaging and Print Buying Manager, as he shares the company's approach to packaging and plastic reduction.
Following the same theme will be David Brooks, Managing Director of Percol, who will discuss how the company became the first coffee brand to receive the Plastic Free Trust Mark from A Plastic Planet and what it means for the business.
In addition, Wallaroo's Director, Abhisek Kanoi, will also be focusing on sustainability when he looks at why compostable snack packaging is the future.
PharmaSustainability will continue to play a central role, this time on the Pharma Forum. The Industry Forum Stage will welcome Pharmacentric Solutions' Managing Director, Greg Anderson, who will be discussing what the pharmaceutical industry is doing to minimise its environmental impact as consumer concern over the environmental cost of packaging rises.
Further to this, Christopher Waterhouse, Managing Director of iDi Pac, will be exploring the challenges facing the pharma industry as it looks to cater for the increased demand of bespoke and personalised solutions in healthcare. He will also identify some of the key strategies that companies can adopt for cost-effective packaging that delivers.
Technology developments will also be a hot topic as Chris Bowden, Director at SmartGlyph, explores how technology can power packaging and deliver growth in patient adherence levels.
BeautyKicking off day two on the Industry Forum Stage will be the Beauty Forum which welcomes Shimon Kalichman, Consulting Director, Brand & Communications at L'Occitane. He will share the company's latest strategy titled 'Pulse' which has been created to pursue sustainable growth, enhanced profitability and consumer trust. This is a subject many retailers will want to hear after experiencing a tough trading period in 2018.
The future of the beauty industry will also be a key topic for Will Grimwade, Global Data's Associate Analyst. He will discuss the changing landscape of packaging in beauty as consumers turn to technology for efficiency and improved results. He will also look at how brands can leverage smart packaging solutions to better engage with their customers and add value to their offering.
Michael Sheridan, Chairman and Founder of Sheridan&Co will take to the stage alongside Araminta Sheridan, Founder of Araminta Marketing, to discuss how brands can utilise both physical and virtual worlds to achieve growth and success in a time of Instagram and social media domination.
Jo Chidley, Founder of Beauty Kitchen will draw on her experience to reveal how the brand made its packaging not just sustainable and convenient, but also desirable to the 21st Century consumer. Alongside making its packaging desirable, Jo will further discuss how Beauty Kitchen redesigned and reformulated all of its packaging to create a truly circular economy.
EcommerceThe Ecommerce Forum will welcome Darren Smith, Marketing Manager at Southgate Packaging, who will share an overview of the market including the facts and figures that affect packaging professionals and why he believes the industry needs to action change. He will also discuss the options for triarchy transit packaging and the differences between the eco-friendly options available.
RetailThe concluding sessions on the Industry Forum Stage will be part of the Retail Forum. Following a turbulent trading year in 2018, which has transitioned into an uncertain 2019, the Forum will feature a panel discussion consisting of retail packaging supply chain experts who will analyse the main challenges in planning for an unclear future and look at what can be done to help organisations prepare for multiple future scenarios.
Also speaking as part of the Retail Forum will be Daniel Frohwein, Team Leader and Head Coach at Thornton's Budgens Belsize Park. He will explore how the UK's first plastic free supermarket zones were actioned in response to consumer concern, whilst also focusing on the key to empowerment and driving change.