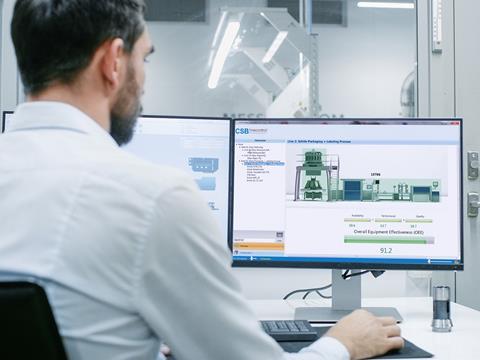 New solutions for digital food production, including control station applications, industrial image processing, and ERP software - all of which allow companies to improve resource efficiency, increase transparency and reduce costs - will be the highlight of industry IT expert CSB-System's stand at Anuga FoodTec 2018.
Focusing on the factory IT of the future, CSB's experts will be available to explain networked and automated technologies for the smart and resource-friendly production of food.
CSB linecontrol increases the overall equipment effectiveness
CSB linecontrol is one of the technologies in this field. The control centre helps to reduce throughput and lead times, assure constant quality, increase productivity and therefore reduce costs. CSB linecontrol supplies all data on current capacity utilisation as well as the performance of single machines in real time. Bottlenecks and malfunctions in the production and packaging lines are immediately visualised.
As a result, unplanned system shutdowns, downtime and rejects are reduced while keeping overall equipment effectiveness (OEE) at a constantly high level. A live demonstration of CSB linecontrol will also be available on the Robotik Pack Line stand at the exhibition.
CSB-Vision enhances quality and efficiency
In addition, CSB will present new application examples of industrial image processing with CSB-Vision. Based on image analysis, the CSB-Eyedentifier, for example, enables fully automatic quality controls on raw materials to be carried out immediately during receiving. This ensures reliable test results while work is reduced to a minimum.
The camera technology also boosts efficiency through the recognition of containers. For instance, the new CSB Unit Recognition captures empties quickly, and can automatically identify, count, and document, with all these steps performed simultaneously without requiring manual work.
ERP for varying business sizes
CSB will also showcase a variety of new ERP systems for different sizes and types of companies that provide a data turntable and control centre for the 'Smart Food Factory'.
CSB Industry ERP is the industry-specific ERP for food and beverage businesses that are looking for a turnkey solution. CSB Factory ERP is ideally suited for optimal control of the production facilities in international corporations where a superordinate Group ERP is already in use.
For small and medium-size enterprises, the Basic ERP provides the ideal solution: even with this version, food companies can draw on best-practice processes that cover all industry and market-specific requirements.
Additionally, CSB users can access specific dashboards in order to retrieve business indicators, sales figures or production KPIs while on the move using their PC, tablet or smartphone.
Experts from CSB-System and CSB-Automation will be available in Hall 6.1, stand B090-C099 for personal discussions on the most important IT and automation topics.
More info: