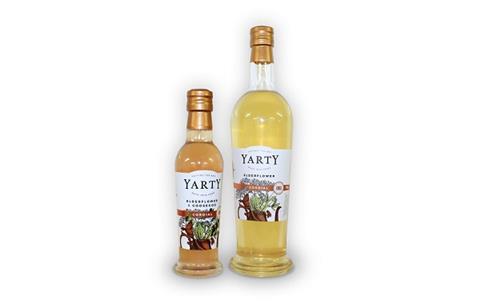 In creating their premium glass packaging, award winning artisan fruit cordial brand, Yarty, say that Croxsons have "helped fulfill the impossible".
Once described by US actor, Johnny Depp, as "England in a bottle….", Yarty's cordials are handmade using the finest fruit, hand-bottled and hand-labelled to create a truly artisan drink. Known for their quality and exclusivity, Yarty's cordials are the fruit drink of choice for top-end events and the corporate market.
Acknowledging that their current glass packaging didn't adequately reflect the quality of their product, Yarty reached out to Croxsons to provide a premium solution in two different sizes: 250ml and 750ml for retail and trade sales. In creating a unique and stylish look, Croxsons supplied a bottle design that fully complements Yarty's requirements - the distinctive 'Olivia' bottle, produced exclusively by specialist manufacturers Saverglass, takes its shape from containers used in ancient times for the conservation of liquids.
To finish the packaging to a high standard, Croxsons included heat-sealed capsules branded with the Yarty 'Y' logo on top.
Yarty co-founder and marketing director, David Mugridge said: "As a family business, nothing is too much trouble for Croxsons. With their exceptional knowledge and attention to detail, they have supplied us with exactly what we were after. The Olivia bottle has the perfect curve and is unique - particularly so as we are the only business in the UK currently using it. "
Croxsons has been supplying a broad base of clients ranging from artisanal producers to seasoned, multinational brand owners, with glass packaging and closure solutions for nearly 145 years. Their faultless commitment to quality continues to provide leading brands with unique packaging solutions - from collaboration, design and container, to closures, decoration and logistics, their 'customer journey' seeks to ensure clients get their product in the right bottle, with the right closure.
More info: