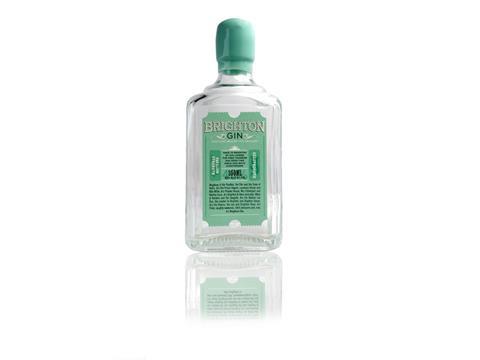 Leading glass packaging company, Croxsons, has created primary packaging and cork closures for Brighton Gin's new 350ml Two-Pitch bottle.
The glass packaging firm was in the mix once again as Brighton Gin launch their handbag-sized product.
In creating Brighton Gin's primary packaging, the collaboration between both parties - from design through to the finished product - is indicative of Croxsons commitment to the 'customer journey' - the steps they undertake to ensure that their clients get their product in the right bottle, with the right closure. Confidence in Croxsons' abilities to create authentic packaging that readily appeals to modern consumers is evident as Brighton Gin continues to expand their range. This trusted connection between brand owner and packaging supplier saw Brighton Gin win the Gold Packaging Award and overall White Spirits Packaging Trophy at the recent 48th International Wine & Spirit Competition (IWSC) held in London.
Kathy Caton, founder and master distiller of Brighton Gin said; "We're so pleased to be using this beautiful bottle with its echoes of the West Pier and with all of the design features that people love in the big bottle, such as the cork with its handwaxed seal."
Brighton Gin has attracted much local support in the three years since its first run of 400 bottles in December 2014. Hailed as a 'gin-to-watch' early into its life, Brighton Gin is Brighton and Hove's first legal distillery and, as such, positively oozes the city's rich history and charm. Brighton Gin was voted the UK's best gin in the 2017 People's Drinks awards.
Croxsons' Tim Croxson said: "We are delighted to continue our strong association with Brighton Gin. With the explosion of artisan gin distillers throughout the country, it is fantastic to see that Brighton Gin has created a strong following on the South Coast and beyond and continues to win multiple awards. Product differentiation in the spirits category is essential - packaging has evolved and brands are challenging the norm of the perception of what a product should look like; the motive being to make a strong connection with the consumer. Brighton Gin is indicative of this trend."
More info: