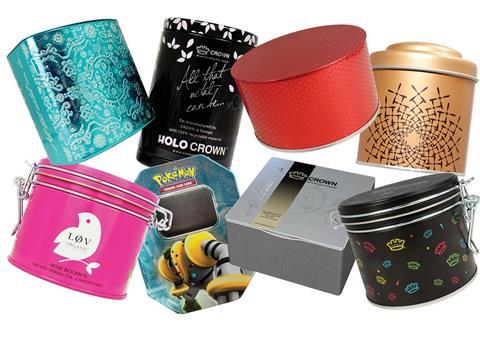 CROWN Aerosols and Specialty Packaging Europe, a business unit of Crown Holdings, Inc., will showcase its portfolio of solutions designed for the promotional and gift packaging markets at the Pack & Gift exhibition (June 21-22, 2017; Paris, France).
Crown's experts will be present on stand C19 to engage with customers and prospects and to discuss how the Company's comprehensive range of products and services can best meet their packaging requirements – from different shapes and sizes to a variety of decorative finishes that help brands create shelf differentiation.
Metal as a packaging material has many unique attributes that make it ideal for promotional and gift products. It is highly versatile in terms of how it can be shaped, resulting in creative designs that make products easily stand out in an increasingly busy retail marketplace. From square and rectangular, to seamless, octagonal and irregular shapes, Crown can translate even the most unusual customer concept into reality through metal packaging.
Another major element of promotional and gift product design for brands to consider is decoration. Just as distinctive shapes stand out at the point of sale, an eye-catching appearance facilitates consumer interest and interaction. Crown's catalogue of decorative options help brands to realize unique visions for their product packaging. Crackle for example, uses an all over varnish which adds a marble, leatherette or authentic "aged" feel. In addition, advancements in fluorescent varnishes – which is now available in seven different colors – can illuminate a package, making it stand out on shelf and further entice the consumer.
Crown's capabilities also extend to personalization and promote brand engagement, whether by offering exclusive opportunities to create collectible, limited edition applications or by creating original packaging that helps brands directly interact with end users. In order to allow this process to run seamlessly, Crown offers dedicated product, graphic design and consultancy services tailored to individual customers – from design and decoration, through to shape, prototyping and logistics.
Sustainability credentials are a vital component of any material used in packaging. Consumers are increasingly aware of the environmental impact they are having where packaging is concerned, and metal's performance in this area is second to none.Infinitely recyclable, metal loses none of its structural properties when it goes through the recycling process. This means that far less virgin material is needed to feed demand, creating what is called a circular economy. Crown is committed to sustainability, and through research and development is constantly striving to make more efficient use of the materials already available in this chain.
"Metal is an increasingly trendy packaging format, and we see it being used extensively in this sector due to its premium look and feel," says Veronique Curulla, Marketing Director at CROWN Aerosols & Specialty Packaging Europe. "Consumers want to feel that gift and promotional items are more than just a gimmick, and when all of the elements that make metal such a versatile material are combined, there is little chance of that oversight being made."
More info: