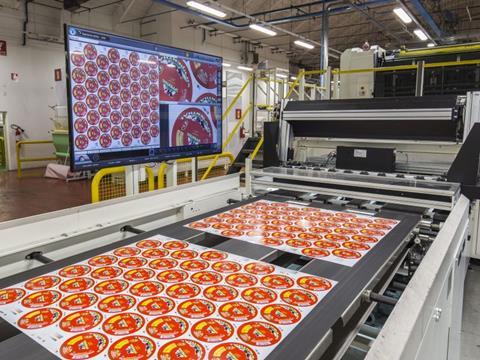 CROWN Imballaggi Italia – part of Crown Holdings, Inc. (NYSE:CCK) (Crown), the world's leading food metal packaging supplier – recently installed a new AVT Titan 100% inspection solution at its Calerno, Italy manufacturing plant.
The installation represents further growth in the collaboration between Crown and AVT – a market leader in print inspection and quality control solutions – that now includes Titan installations at various CROWN Packaging Europe production facilities.
Designed to meet the specific needs of metal printing and decoration, AVT's Titan is a state-of-the-art quality assurance and process control solution that provides 100% inspection and traceability of every printed metal sheet. Based on AVT's advanced quality control algorithms, Titan detects the full spectrum of typical print defects, including colour variations, mis-registration (including varnish mis-registration), misprints, spots, text, streaks, scratches, splashes, scumming, edges, bends and more.
These capabilities are a perfect match for Crown's objectives, as Mr. Ugo Manghi, MPC Manager of the Food Division and Project Manager, explains:
"AVT's Titan was an essential complementary element to the installation of our KBA 6-colour printing press for metal packaging. The installation in the Calerno plant was among the most important for our company. Our customers are among the best-known brands in retail distribution. Quality is not a prerogative here, it is imperative."
The Quality Imperative "With the new high-speed KBA printing press operating 24 hours a day, manual inspection was no longer an option," continues Mr. Manghi. "We quickly switched to AVT's Titan 100% inspection solution. In Calerno, we can now offer our customers a complete service throughout the metal packaging production process, which also pays dividends when pursuing new business opportunities.When it came to choosing a print inspection solution, there was not a doubt in our minds that AVT offers the best solution for our needs."
Mr. Alessandro Silecchia, Process Engineer at CROWN Imballaggi Italia, comments: "AVT's 100% inspection solution tremendously helps us in our standardization project, because it allows us to reduce the number of defects printed by revealing them to the operator as soon as they appear. We no longer trash out thousands of metal sheets. The system reveals each individual problem immediately. This represents substantial savings for the company, as we don't have to destroy entire sheets."
He continues: "Moreover, we have dramatically increased production, Titan has become our electronic eye; it is far more accurate and faster than the human eye. We know we can fully rely on it so we are able to focus on other activities. The changeover was very smooth as well: Titan was remarkably easy to learn and master thanks to the excellent training we received from the AVT team."
CROWN and AVT – A Robust Collaboration
"We have built a very collaborative relationship with AVT," concludes Mr. Manghi. "They followed us step by step through our process, trying to understand our needs and providing help to solve our problems. The result was a specific solution tailored to our needs. AVT also proved invaluable during the implementation: the team trained our operators to a very high standard with in-depth classroom sessions and practical, real-life scenarios. The whole project was well managed from the start. Our production kicked off smoothly and flawlessly. Much to the satisfaction of our operators and of the entire company, if I may add."
More info: