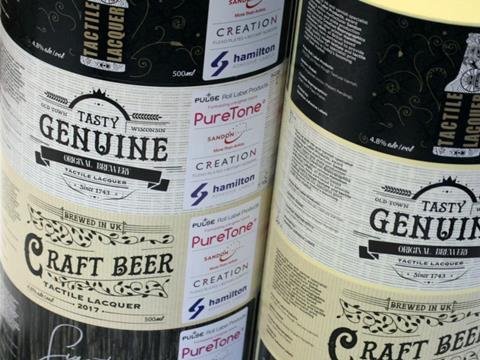 Creation, a UK specialist in packaging artwork, reprographics and sleeve and plate production, has partnered with narrow web ink and coatings specialist, Pulse Roll Label Products, to serve the growing trend for tactile solutions.
Harnessing the power of the senses to engage consumers through enhanced pack appeal, brands and retailers are increasingly concerned with delivering an experience that stimulates sight, touch, hearing and smell. Accordingly, Creation worked with Pulse Roll Label Products to showcase an inventive new food packagingcompliant UV flexo rough texture varnish aimed at the craft beer label market and other specialised print applications.
Matt Francklow, Managing Director at Creation, said: "Packaging has the power to create a strong emotional connection with products, from innovation in shapes and materials to special effect integration. Multi-sensory engagement is transforming the packaging landscape and we are at the forefront of developing solutions that truly leave an impression."
Mikaela Harding, Product Manager at Pulse Roll Label Products, added: "Consumers often make purchasing choices based on how a pack looks, but many don't realise the power of its effect on their other senses. We wanted to draw attention to the experience of touch by producing a rough, tactile coating for labels and packaging."Creation lent support to the varnish application by examining the dot structures of its plates to ensure the UV tactile varnish met the desired textural requirements and assessed which designs would best showcase the tactile feel when using the product. The team examined wood effect, hessian feel, wallpaper and simple text formats in order to get the maximum feel out of each texture. Furthermore, the company developed four different label designs and recommended using the award-winning Asahi AWP Flexo Plates.
In addition to the Creation partnership, Pulse Roll Label Products collaborated with Sandon Global and Hamilton Adhesive Labels to bring together knowledge and expertise in ink, anilox and self-adhesive label printing.
Harding adds: "By combining the GMX engraved anilox from Sandon and plates from Creation, we achieved outstanding print results to demonstrate the rough texture of our new tactile varnish. We want to support our customers in delivering superb quality and optimal performance on press. It's part of our vision to offer a complete solution to our customers."
Francklow concludes: "Through our work with Pulse Roll Label Products and its partners we were able to exceed a brief with exceptional results. It's encouraging to see such an effective collaboration between companies who, together, want to deliver the highest-standard print solutions without compromise. We believe our expertise in creating outstanding print accuracy and quality is appreciated by all those involved in this project."
More info: