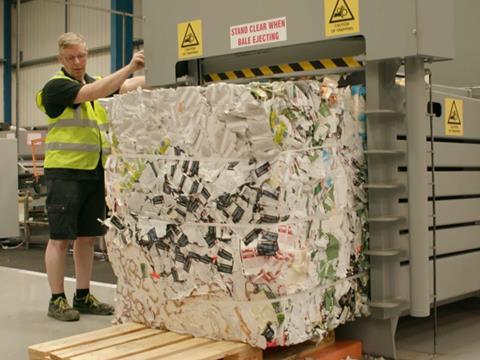 Coveris is celebrating a decade of sustainable success at their Lincolnshire based environmental services facility with the launch of a pioneering new recovery system Recoveris™.
Coveris has announced the launch of an innovative recovery system, Recoveris™, which enables the delamination and separation of label stock from silicone backing paper for reprocessing.
Recognising a gap in the recycling chain, Coveris has spent over two years developing a high-speed recovery system which will manage customer and set-up waste more sustainably. Coveris anticipates that this will now enable them to repurpose more than 1,000 tonnes of additional waste per week for regeneration or recycling.
Recoveris™ will address the disposal of redundant customer label waste collected mainly as a result of seasonal forecasting challenges and general spoilage within the supply-chain, including set-up waste. As composite laminate constructs, these finished labels were previously unable to be processed for regeneration or recycling as they consisted of both mixed backing-paper and label material waste.
As one of Europe's leading manufacturers of self-adhesive label products for the grocery sector, Coveris' recycling facility was initially established in 2007 by legacy business Paragon Labels in Spalding; recognising its environmental responsibility to its customers to provide a more sustainable, and fully traceable process for managing product waste.
Having won last year's Energy & Environment Award at the Cranfield School of Management Best Factory Awards (BFA), Coveris have received international recognition for their recycling commitment, sharing the accolade with previous winners such as Bosch Thermotechnology, Valliant Group and Entek International.
Today the facility, which has since relocated to larger premises in Boston, recovers around 10,000 tonnes of customer and production waste a year, the equivalent in weight to around 5,500 cars in the UK. Operating a zero-landfill waste initiative throughout its paper division, Coveris' environmental facility recycles its own production and redundant manufacturing waste as well as other paper and plastic used throughout the supply-chain, including tertiary packaging.
In 2014 Coveris formed an environmental recycling partnership with lead raw material supplier, UPM Raflatac, supplying recovered waste back to the materials manufacturer for repurposing. Driven by its innovative RafCycle® model (find out more here), Raflatac has over the years invested in the development of its own pioneering technology that recycles label material waste into composite decorative materials, enabling the regeneration of new products for new uses, as well as fully recycling residual backing-paper waste back into new content for reuse.
Since receiving UPM's Rafcycle® award for services to sustainability in 2015, Coveris has continued to seek new ways to work with the material manufacturer to better manage waste streams throughout its business.
Commenting on the new recycle-solution, Tim Lennon, Coveris' Environmental Services Manager said, "the launch of Recoveris™ marks a new step in our ability to recycle more product waste more sustainably than before and demonstrates our ongoing commitment to the environment. We plan to continue investing in our recycling facility in 2018 to develop new processes and solutions for dealing with waste, whilst also working more closely with customers to look at ways in which we can collaborate to improve recycling across the entire supply-chain and in new product areas."
More info: