Tim Sykes caught up with Tony Kingsbury, director of sustainability EMEA, Dow Packaging & Specialist Plastics, at K 2019 to discuss how Dow defines the environmental challenges facing packaging, and where it can insert itself to make a difference.
TS:
Judging by your exhibit at K 2019, the circular economy appears to be the central driver for innovation at Dow right now. To what extent is Dow's approach being driven top-down by the need to come up with solutions to the industry's broad 2025 commitments and goals, as opposed to looking to the hundreds of expert chemists in your organisation and saying, "let's see what our knowledge can do and how can it be leveraged?"
TK:
In the 'old' Dow approach, it may have been more top-down, but since the integration of DuPont, our new Packaging and Specialty Plastics business has emerged, which is more polymer driven, more bottom-up.
It's looking at what the solutions are required by the marketplace we're selling products into, as opposed to 'here's the big sustainable chemistry goal'. Those headline aspirations are important but we're seeing these much more driven by the needs of the value chain.
"If the focus is only on recycling and circularity, then we're not considering the carbon consequences of the decisions we are making. I know we can solve the plastics waste issue. However carbon footprint – I'm not as encouraged with our ability to overcome this."
TS:
The very concept of a circular economy is quite contested, with some arguing (just as substantive progress is made in recyclability of plastic packaging) that recycling as a model is inherently inferior to reuse. Brand owners are investing in concepts such as Loop, and also exploring bioplastic applications. In terms of channelling your R&D capabilities, would you say that Dow is agnostic in terms of these competing visions of the circular economy?
TK:
Absolutely, we're agnostic. We follow the marketplace and provide solutions. If reusability works, we can help our customers make reusable packages. We don't necessarily see that as a huge piece of the business moving forward, whereas we do see a huge focus on recycling.
Our strategy emphasises design for recyclability, and offering all-polyethylene solutions. We're witnessing a lot of uptake from brand owners in the marketplace as they realise they need to produce recyclable packages if they're also going to incorporate recycled content. And obviously there's real pressure to do so. China has shut the door on receiving all recycled plastics. There's a recognition by the regulators and lawmakers in Europe that infrastructure has to change, so recycled content discussions are evolving for the first time. Over in the US, recycled content for non-food bottles has been in play for a long time. Although new for the European market, we do see it spreading more rapidly around the world. Businesses such as Unilever and P&G are releasing strategies focused on using more recycled content. Our strategy aligns to that.
However, aside from this, we are developing solutions based on chemical recycling (the Fuenix partnership). We're also partnering with UPM on renewable feedstocks, producing PE from naphtha derived from crude tall oil. Having explored various options for bio-based plastics, we feel this is the most bulletproof sustainable option, as it comes from wood waste, a by-product of pulp making, and originates from sustainably managed forests.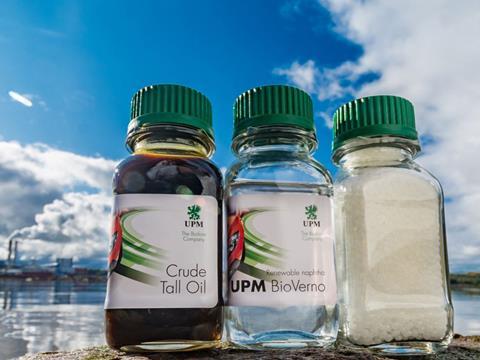 TS:
I'd like to ask you about the wider task of constructing a circular economy. Dow can directly impact design for recyclability but it won't work unless you have a coherent economy in place for PCR and infrastructure. Can you give your perspective on how well the entire industry value chain is working in Europe, and what are the roadblocks?
TK:
Compared to 18 months ago I think we're moving rapidly forwards. Everyone is figuring out that you can't just point the finger at somebody else. It's everyone's responsibility.
Recycling involves a lot of infrastructure. Collection is in many ways the easy part. But then what? The struggle lies in the sorting systems. We are witnessing a lot of infrastructure in that sphere and we expect acceleration of investment throughout Europe. The European Commission understands that and it's also part of their initiative.
There's a lot of movement for bottle recycling taking place in Europe, but we also need to take more notice of other packaging that is collected right now, but not commonly recycled. The solutions are there, but they need implementing. Different countries are approaching the issue in different ways, and some brands are moving more aggressively to make changes.
TS:
Dow is a member of initiatives such as the Ellen MacArthur Foundation, CEFLEX and the Alliance to End Plastic Waste. How is the ecosystem of value-chain collaborations addressing these challenges and how do you see Dow's role in them?
TK:
Collaboration is critical. We can't do this alone, especially when tackling the big issues, but rather by working through the value chain, which is driven in turn by the public. As we look at moving from a linear to a circular model, we must also be engaged with stakeholders, NGOs, and governments. I'd say it's more pertinent in Europe than in North America or Asia right now.
When we engage with any specific initiative, we see our role partly as ensuring they are headed in the right direction - that they are not just talking but are providing real solutions. And if they're just talking, then we minimise our input and focus on the ones that are providing real solutions.
We all agree that plastic waste in our environment and the oceans is unacceptable and are particularly excited by The Alliance to End Plastic Waste. It is a global effort focused on infrastructure, joining not just the resin producers, but also the brand owners and waste management companies. With a commitment of $1.5 billion over the next five years, it is an alliance of over 40 global organisations actively participating.
Moreover, it's not just collaboration from Europe and North America. It is a global effort involving countries such as China, India, and South Africa. In so many of these places, it's not just about recycling, but waste management. We must start working on the infrastructure issues where the middle classes are emerging in these countries. There's also a focus on innovation, education and data-gathering. We will see a lot more creative projects being announced over the coming months and years.
There is a unified agenda in the activities of The Alliance to End Plastic Waste, but also separate creative activities across countries and companies. Initially, there is a strong focus geographically on south east Asia, but I think we need to start projects in Africa too.
TS:
A year or two ago, we felt it was necessary to encourage our readers to think of plastic waste in a more nuanced way - not to forget about resource efficiency the crucial role that plays in addressing the climate crisis. As we get more design for recycling, better functionality from monomaterial alternatives and edge closer to realising a circular economy, is this something we are potentially approaching a point where we no longer have to view this as a dilemma or a question of priorities? Can we start to think about neutralising waste vs carbon as a dichotomy?
TK:
No. Frankly, I'm disappointed in what's happening. If the focus is only on recycling and circularity, then we're not considering the carbon consequences of the decisions we are making. I disagree with the assumption that if a solution is circular, it's the best.
It could in fact be more harmful from a systems standpoint – consider for example packaging meats with a very high embedded energy. If that goes to waste because the package is under-engineered in order for it to be circular, then the meat may go to waste because it doesn't have the optimum shelf life.
I'm disappointed that those discussions aren't happening enough. We are so focused on circularity and recycled content, and I'm worried we are not looking at the bigger picture.
I know we can solve the plastics waste issue. However carbon footprint – I'm not as encouraged with our ability to overcome this. We can't forget these broader issues. This world is too often being driven by PR and social media messages. If I try to talk about the benefits of plastics from a greenhouse gas systems standpoint, eyes roll.
We are focused on delivering the circular economy without compromising the carbon impact, but I'm not convinced everybody is keeping that same attitude. Thank you for driving that point home – those are the two big issues of our time.
But this is solvable. Society says we need to clean up the plastics in the ocean, and I say: no, we need to stop the plastics entering the oceans in the first place. 'Cleaning up' the oceans will create further carbon emissions, and plastic waste will keep on flowing in if that's your approach. Stopping it from entering is our role.