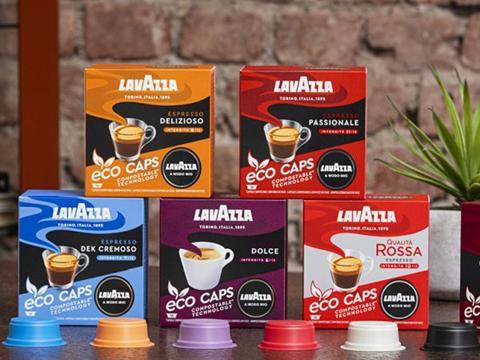 According to research by Lavazza, over a third of UK residents admit to throwing their used coffee capsules into the bin because they don't know how to properly dispose of them.
Consumers today are confused about what can and cannot be recycled, with 72% admitting to feeling overwhelmed when attempting to understand the various recycling symbols. More than half (53%) of consumers think we should be recycling more.
In order to cater for this trend, Lavazza has launched their 100% industrially compostable coffee capsules.
When Lavazza Eco Caps are correctly disposed of, they biodegrade to become compost. If local rules allow for it, used capsules should be thrown in the food waste bin. The food waste bin is sent for industrial composting.
Read more about the challenges of composting food packaging here.
"The composting of the Lavazza Eco Caps takes up to six months. This can be speeded up depending on the composting plant's characteristics. Lavazza Eco Caps were designed in cooperation with an external supplier and are made with a compostable biopolymer mainly based on renewable resources. They conform to international standard EN 13432, as shown by their certification by TÜV Austria," says David Rogers, UK Managing Director of Lavazza.
Lavazza says that Lavazza Eco Caps retain their distinctive aroma for longer, thanks to the innovative, 'aroma safe' technology, which keeps each capsule fresh for up to 18 months.
"Lavazza Eco Caps have an 18-month shelf life, during which the 'aroma safe' self-protection technology, which creates a barrier against oxygen, keeps the coffee fresh, preserves its quality and guarantees an excellent taste experience with no need for other external packaging, which sets it apart from other compostable capsules on the market," adds Mr. Rogers.
Lavazza is aiming to replace its entire range of at home capsules with these new 100% industrially compostable capsules by the end of the year.
Terracycle cooperation
To counteract consumer confusion about how coffee capsules can be recycled and to make the disposal more convenient for consumers, Lavazza is partnering with recycling experts, TerraCycle. This has led to the launch of the Lavazza Eco Caps Composting Programme, a free nationwide composting solution for used coffee capsules in the UK.
As part of this partnership, a network of public access coffee capsule drop-off points will be set-up around the UK, enabling consumers to conveniently dispose of their capsules. The drop-off points will be easy to find via the interactive map on the TerraCycle website. Each drop-off point will earn TerraCycle points based on the amount of capsules that are deposited, which can be redeemed as a monetary donation to the charity or non-profit organisation of their choice. Consumers can get involved by either registering to be in charge of one of the drop-off points or can support their local point by dropping off their used capsules responsibly.
Cafés Novell launches "No Waste" coffee range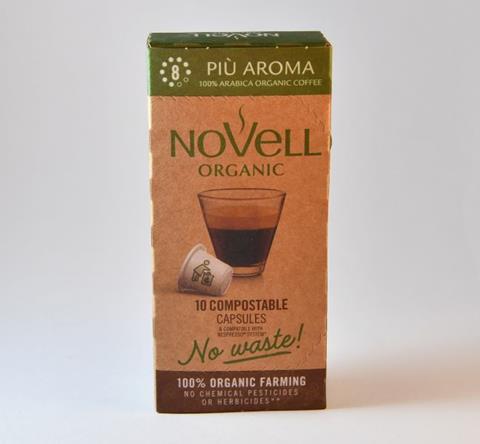 Also fulfilling consumer demands for more sustainable coffee capsules, Cafés Novell, a family owned coffee-roaster based in Barcelona, has launched their No WASTE self protected compostable coffee capsules.
"Since we started our project more than two years ago with the first compostable capsule on the market, we have strived to get the perfect capsule: 100% compostable, 100% certified organic and 100% waterproof, maintaining the better conditions and qualities of coffee," says Josep Novell, the company's CEO.
"The new design eliminates the plastic package that previously contained and preserved the capsules. This has allowed us to reduce the amount of cardboard used for the package by 45%, which in turn is 100% recyclable. The new capsule has the added benefit of preserving the taste and quality of the coffee."
The new No WASTE capsule are made of compostable materials, which the company says take between 12 and 20 weeks to be composted under industrial composting conditions.
"Cafes Novell has made an investment of more than € 1.5 million and has worked for more than four years to develop 100% compostable and no waste coffee capsules. Since the company launched its first compostable coffee capsule two years ago, its sales have increased by 60%," Mr. Novell adds.