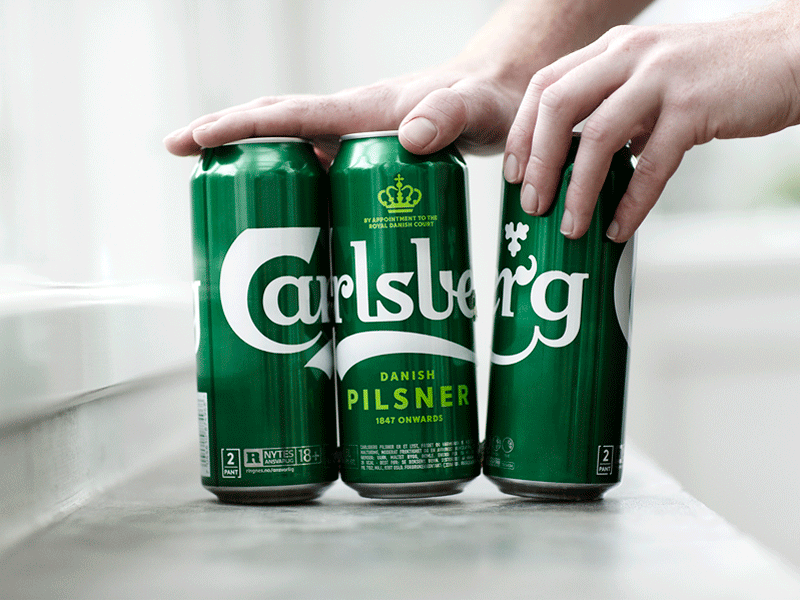 Carlsberg has set itself some tough environmental targets for the coming decade. Given its recent rebranding, along with a raft of recent and upcoming innovations – such as the much-anticipated green fiber bottle – it was an ideal time for Packaging Europe to catch up with Simon Hoffmeyer Boas, group sustainability director, and Julian Marsili, global brand director, to find out about the brand's sustainability ethos and how this impacts its strategic direction. Victoria Hattersley reports.
There are a lot of competing priorities in the global supply chain when it comes to sustainability: resource efficiency vs. packaging reduction; product protection vs. downgauging, and so on. Sometimes it can fall to global brands such as Carlsberg, which have high visibility among consumers, to help further the conversation and negotiate a path between these conflicting needs through their own brand development strategies.
In mid-2017 Carlsberg launched its most ambitious sustainability programme to date. The 'Together Towards ZERO' programme sets out clear ambitions to be achieved by 2030: zero carbon emissions (through eliminating coal use and converting to renewable energy), zero water waste, zero irresponsible drinking and zero accident culture. And it is already ramping up its efforts. According to Mr Hoffmeyer Boas, it hopes to achieve half of this target by 2022.
"When you look at where in our value chain carbon is emitted, around 14 per cent is from breweries, and 86 per cent is from outside of the breweries. We call this our 'beer-in-hand' footprint, and for this we have a 30 per cent reduction target," he says. "As packaging makes up around 40 per cent of the total value chain emissions it's a very important area for us to focus on."
Indeed, as a group Carlsberg is 'very vocal' about the need for more ambitious climate targets than the world is currently employing. Its CEO Cees 't Hart is a member of the World Economic Forum alliance of CEO climate leaders, so it is clearly in a position to make its voice heard on this topic.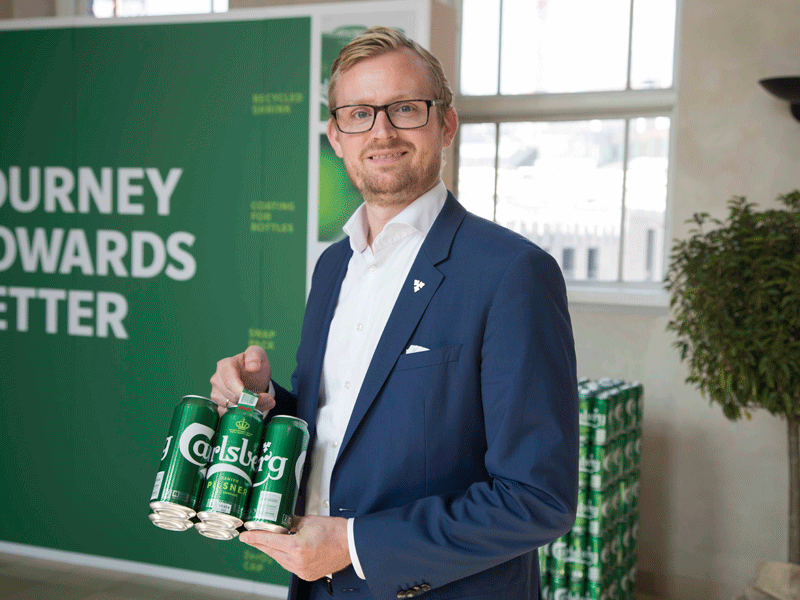 Consumer engagement is key
Quite apart from the purely functional concerns, there is another important reason why packaging plays such a key role in reducing environmental impact – the high visibility it has for consumers. It's increasingly apparent that consumers are becoming far more conscious of the impact a product's packaging has as opposed to the product itself.
"What is great about packaging," he adds, "is that it is very physical so it has a concrete impact on the consumer, which gives us the ability to engage with them on sustainability." And Carlsberg is very clear that sustainable change can only come about through collaboration between consumers and brands – it is no use, it says, producing a highly sustainable package if consumers don't know how to correctly dispose of it.
A 'new dawn'
Last year, Carlsberg launched what it calls its 'new dawn' – a complete rebranding of its visual identity. But Global Brand Director Julian Marsili is quick to point out this is not simply a cosmetic facelift.
"This rebrand has allowed us to bring to life many sustainable innovations we have been working on over the past year, with two main aims: to deliver better beer experiences to consumers as well as brand-building activities that are better for society."
The most effective of these new innovations, he says, is the Snap Pack. Introduced in 2018, it was designed to replace traditional, bulky plastic rings with a pioneering solution that instead bonds packs of multiple cans together. It was initially launched on 6 x 330ml Carlsberg Expørt cans, which are held together with a specially developed glue in small dots. These are easily snapped apart when required, yet robust enough to be transported to and from the store. Through the Snap Pack, the Carlsberg Group aims to reduce its overall plastic usage by more than 1200 tonnes annually.
Recyclable inks
Yet end of life packaging is only part of the picture: Carlsberg has been looking at the entire value chain to optimise every aspect of its packaging. Another area it has identified for sustainable development is greener inks. Through a collaboration with hubergroup it has introduced a range of Cradle to Cradle certified™ inks and coatings for offset and gravure print products.
"Along with hubergroup we looked at each ink and its impact on sustainability," said Mr Hoffmeyer Boas. "Our message was that it doesn't have to be difficult to create a better ink optimised for recycling – it's just about asking the right questions. With a brand like Carlsberg, that Julian is heading up, we can use that for good in creating awareness of what better inks look like."
Mr Marsili expands on this: "We're not just looking at the impact of colour on the shelf anymore, but on its ability to be recycled. This is not to say that we ignored the colour and the look – of course this is a vital part of on-shelf appeal – but we have to look at the whole impact."
It's also worth mentioning that this collaboration with hubergroup is indicative of how Carlsberg tackles each sustainability challenge. In general, it recognises that a collaborative approach is one that gets results – to which end it regularly taps into the knowledge of suppliers, NGOs and startups.
"Together we can do better," he says. "When you unleash the power of all our partners, that's when you get somewhere. Ask questions. What can we do that is different to create sustainable alternatives? Support our partners. Say to them: 'If you develop this sustainable innovation we will put it on the market'."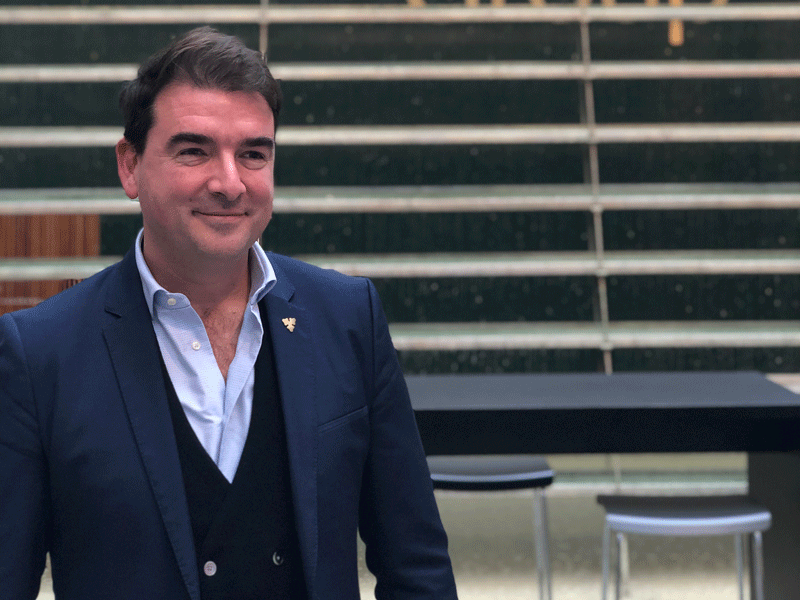 The question of materials: Plastics reduction vs. resource efficiency
Given the broader debate around the problem of plastic waste weighed against the need for resource efficiency, we are interested to find out how Carlsberg engages with this issue. Where does it sit within the brand's overall approach to sustainability?
"We have what I would call a 'scientific approach' to sustainability," says Mr Hoffmeyer Boas. "That means when we are faced with the question, Is this sustainable?, we a look at it from two perspectives.
"First there is the quantitative environmental impact, which relates to resource efficiency: if a has a low CO2 impact vs. other materials it's a really good start.
"Second, there is the qualitative aspect – how the consumer perceives this material. Where does it end up at the end of its life? How can it become a new product? This qualitative aspect is clearly more difficult to tackle but it's a very important question to ask."
But when it comes down to the question of one material over another, Carlsberg has not tied its flag to any particular mast. "With materials, we believe any type can be made more sustainable – there are just different approaches to different materials. You simply have to look at the waste hierarchy: in essence, with radical reduction comes carbon benefit, and this also means you have less material that needs to be recycled."
Which brings us to another question that brand owners like Carlsberg, which are actively looking to reduce their carbon footprint, will no doubt ask themselves. How far do we try to influence the debate on waste management and the circular economy?
The thinking from Carlsberg is that regulators should always engage with industry first, where possible, because "we really have knowledge of what works in our industry."
Look at the area of coating, for example: more than 80 per cent of Carlsberg's packaging in Asia is in refillable glass bottles, which can fade in appearance over time, so environmentally friendly coatings, produced by chemicals group Arkema, are applied to ensure they stay appealing to consumers – "the bottle appears new though it may have been used several times."
What next?
While our interviewees are not able to reveal much detail on Carlsberg's future sustainability initiatives, Mr Hoffmeyer Boas was able to confirm that the long-rumoured 'world's first biobased beer bottle' is due to appear in 2019.
We already know a little about this project: the Green Fiber bottle has been in development since 2015, in partnership with Danish packaging company ExoXpac with support from Innovation Fund Denmark and the Technical University Denmark. Carlsberg says the innovative new bottle will be made from a selection of biobased materials, principally sustainably sourced wood-fibre, in line with its long-term plans to reduce its reliance on fossil fuels. We will watch with interest over the coming months to see how this story progresses.
"Any type of packaging can be better and more sustainable," says Mr Hoffmeyer Boas in conclusion, "so there is no crusade against any particular type of material. What we need to do as a company is help our consumers live more sustainable lives."