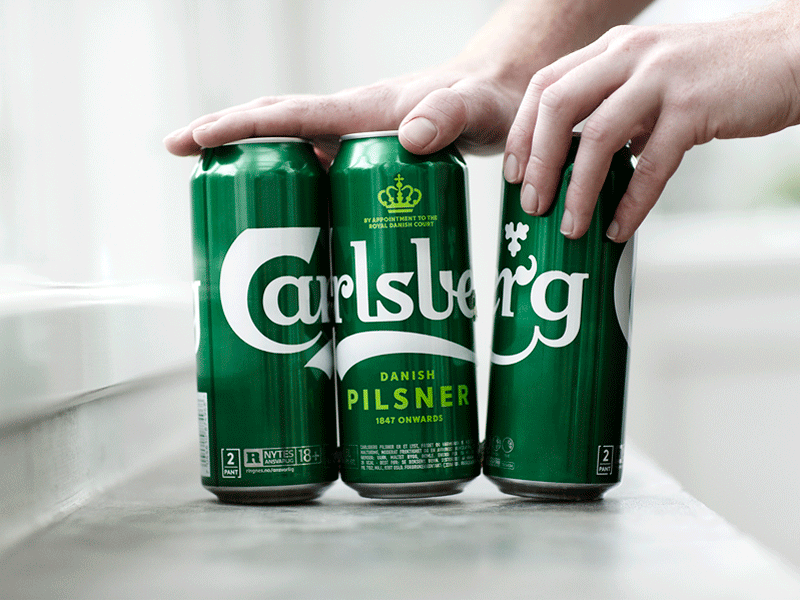 The question of materials: Plastics reduction vs. resource efficiency
Given the broader debate around the problem of plastic waste weighed against the need for resource efficiency, we are interested to find out how Carlsberg engages with this issue. Where does it sit within the brand's overall approach to sustainability?
"We have what I would call a 'scientific approach' to sustainability," says Mr Hoffmeyer Boas. "That means when we are faced with the question, Is this sustainable?, we a look at it from two perspectives.
"First there is the quantitative environmental impact, which relates to resource efficiency: if a has a low CO2 impact vs. other materials it's a really good start.
"Second, there is the qualitative aspect – how the consumer perceives this material. Where does it end up at the end of its life? How can it become a new product? This qualitative aspect is clearly more difficult to tackle but it's a very important question to ask."
But when it comes down to the question of one material over another, Carlsberg has not tied its flag to any particular mast. "With materials, we believe any type can be made more sustainable – there are just different approaches to different materials. You simply have to look at the waste hierarchy: in essence, with radical reduction comes carbon benefit, and this also means you have less material that needs to be recycled."
Which brings us to another question that brand owners like Carlsberg, which are actively looking to reduce their carbon footprint, will no doubt ask themselves. How far do we try to influence the debate on waste management and the circular economy?
The thinking from Carlsberg is that regulators should always engage with industry first, where possible, because "we really have knowledge of what works in our industry."
Look at the area of coating, for example: more than 80 per cent of Carlsberg's packaging in Asia is in refillable glass bottles, which can fade in appearance over time, so environmentally friendly coatings, produced by chemicals group Arkema, are applied to ensure they stay appealing to consumers – "the bottle appears new though it may have been used several times."
What next?
While our interviewees are not able to reveal much detail on Carlsberg's future sustainability initiatives, Mr Hoffmeyer Boas was able to confirm that the long-rumoured 'world's first biobased beer bottle' is due to appear in 2019.
We already know a little about this project: the Green Fiber bottle has been in development since 2015, in partnership with Danish packaging company ExoXpac with support from Innovation Fund Denmark and the Technical University Denmark. Carlsberg says the innovative new bottle will be made from a selection of biobased materials, principally sustainably sourced wood-fibre, in line with its long-term plans to reduce its reliance on fossil fuels. We will watch with interest over the coming months to see how this story progresses.
"Any type of packaging can be better and more sustainable," says Mr Hoffmeyer Boas in conclusion, "so there is no crusade against any particular type of material. What we need to do as a company is help our consumers live more sustainable lives."