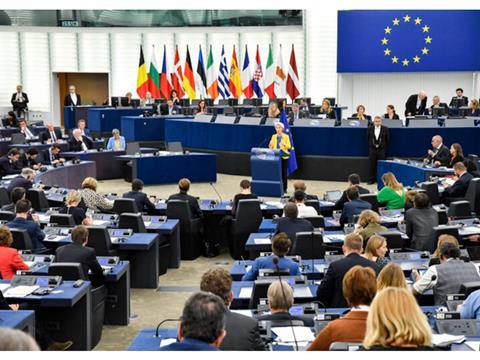 Members of the EU Commission gathered in Strasbourg on Wednesday for the State of the European Union conference. Following a rousing speech by President Ursula von der Leyen, the debate began in pursuit of 'sustainable and digital' progress for the continent. But what kind of future was being promised, and where will packaging fall within it? What impact will the EU's 'green transition' have on the push towards sustainability and how far can we expect it to go? Emma Liggins consults the key talking points in search of an answer.
High on the Commission's agenda was the fallout of Russia's invasion of Ukraine and the continent-wide energy crisis and dependence on fossil fuels, among pressing social and financial issues. These concerns are understandable, and their implications are vital.
Leading up to the conference, EUROPEN managing director Francesca Stevens warned that "the lack of availability of sufficient and appropriate packaging can put at risk the security of essential systems such as the food and pharmaceutical sectors, disrupting products' distribution and availability across the entire EU.
"The COVID-19 pandemic and the ongoing conflict in Ukraine reminded us that the packaging value chain is vulnerable to price fluctuations, energy rationing and unavailability of raw materials, as well as to trade barriers resulting from uncoordinated crisis responses and management mechanisms. It is necessary to recognise packaging and its raw materials as an essential value chain and to ensure that measures to anticipate, better communicate on, coordinate and manage emergencies are foreseen for the packaging supply chain in times of crises."
In her opening speech, von der Leyen identified access to raw materials as a key point of discussion. The question is inherently political; she asserted that 90% of raw earth and 60% of lithium is currently controlled by China. Later in the debate, Jordan Bardella suggested that Europe's dependence on fossil fuels and nuclear energy is pushing governments towards foreign suppliers – including Azerbaijan, which is still in conflict with Armenia.
Seán Kelly claimed that adequate gas resources off the Irish coast were being ignored in favour of a pipeline in the UK, which would need to ration its supply if Russia cut them off. Indeed, von der Leyen explicitly and repeatedly blamed Vladimir Putin for the continent-wide energy crisis.
Yet her projected solution was clear. The European Critical Raw Materials Act is an upcoming legislative proposal to ensure the supply of raw minerals within Europe, investing useful strategies throughout the supply chain and encouraging reservation when supplies run low. Access to these materials is therefore expected to increase five times over by 2030 – although the accessibility of oil and gas remained largely undiscussed.
February 2022 saw the launch of Global Gateway, a vast financial initiative that has included the building of vaccine factories for local production in Africa and Latin America. In mentioning this, van der Leyen seemed to set the precedent for talking points surrounding manufacture within Europe and beyond.
New partnerships and trade policies were initially championed as solutions to improving environmental practices, preventing Europe's over-reliance on Russia alone; yet Manon Aubry reminded the Commission that trade agreements with distant countries such as New Zealand will necessitate imports, which will then generate packaging waste and carbon emissions.
Whether or not there was a middle ground to be reached, the conversation surrounding local agriculture – raised by Daniel Caspary, amongst others – appeared to encourage the sourcing of food grown in one's own country. Both crops and medical products are starting to experience shortening supply chains. Only time will tell how much further such initiatives will go.
Understandably, discussions around energy savings dominated the debate. Ska Keller and Siegfried Mureşan were united in their call for investment in renewable energy sources, and while David Cormand spoke more generally about the green transition, he warned that hydrogen is not an automatic fix – that, in his view, sustainables are the way forward.
REPowerEU was implemented in May to phase out Europe's dependence on Russian fossil fuels, aiming to cover the energy consumption of a quarter of all households across the EU, and the European Green Deal aims to make Europe the first climate-neutral continent by 2050. Harnessing these steps into sustainability will open up countless new jobs, Malik Azmani told the Commission.
Not everyone was so receptive to change. Renewable energy is unreliable, said Robert Roos, and green solutions come at the expense of the people; he blamed 'Eurofederalism' and the EU's 'attacks on sovereignty' for national energy crises. Jaak Madison took a similar stance: solar and wind power are not stable, and Russia's war on Ukraine is not to blame for the crisis, but a lack of forethought from the EU in pushing for eco-friendly alternatives.
Perhaps less extreme was François-Xavier Bellamy's reminder that the closure of unsustainable energy generators such as nuclear plants may still necessitate and increase imports – thus reminding the Commission of the situation's complexity. Nor should concerns about international shipping go ignored.
According to Angelika Winzig, one in five German companies is considering transferring its production abroad. Knee-jerk reactions to the climate crisis might only have been hypothetical within this conference, but could European businesses be forced to choose between sustainable practice and affording their own upkeep?
With prices still soaring, Christel Schaldemose and Dimitrios Papadimoulis sought clarity regarding the uncoupling of gas and electricity prices; van der Leyen promised that it would be enacted by the end of this year. The reception to this was not unanimously positive. Tamás Deutsch argued that the EU hasn't been doing enough to keep companies out of bankruptcy, while Aubry resisted van der Leyen's call to send inflated energy bills to Russia, maintaining that the Commission is responsible for regulating prices.
Conversations have been happening in the packaging industry surrounding energy consumption – how to regulate it and whether it has received the appropriate attention in sustainability efforts – and steep costs will undoubtedly play a role going forward, potentially leaving companies restricted as to how much progress they can make.
By reducing Europe's reliance on fossil fuels, said van der Leyen, imports would go down and countries could rely on their own, renewable sources. However, Papadimoulis called the Commission's involvement in the energy crisis 'delayed' and argued that the subsequent funding – a figure he places at 1% of EU GDP – is insufficient. The Achievements and Timeline document (AaT) published by the Commission fixates on Russian oil and import/export prohibitions, and mentions high oil prices in passing, but says little of its industrial use.
It does claim that the 'Save Gas for a Safe Winter' plan was implemented in August to gradually increase the EU's gas consumption by 15% until next spring, and that Member States are being held to minimum gas storage obligations, which must ensure an 80% filling level by 1st November. The success of these schemes was not mentioned during the conference.
Amongst international politics, clashing ideologies, and time-limited speeches, there were very few specific gestures towards the packaging industry. Europe's industrial sector as a whole was encouraged to aim for a 'sustainable and digital' future, and one must consult the AaT to find the statement that, "for Europe's green transition to be a success, we need the support and active engagement of citizens and businesses across the European Union." This refers to the climate pact forming part of the European Green Deal.
It seems, then, that while the EU will attempt to manage costs and maintain continent-wide environmental efforts within increasing political turmoil, the packaging industry must continue to do what it has been doing: keep searching for sustainable innovations for as long as it can afford to.