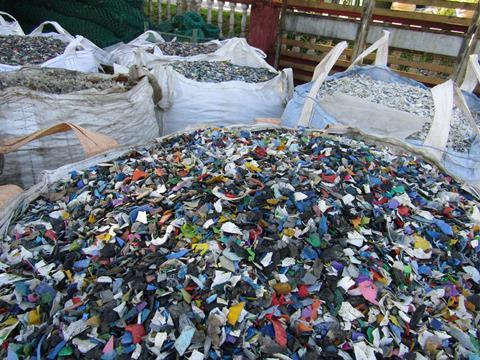 Demand for European mechanically recycled polymers is the lowest it's been for several years. Costs through the chain remain high and producer margins for many grades narrow.
In this insight, Mark Victory, Senior Editor, Recycling at ICIS, looks at why current underlying structural shortages – particularly of packaging suitable material – and sustainability pressure from regulators and consumers show little sign of abating.
Players through the chain have reduced operating rates, summer convertor outages are expected to be protracted and there remains a persistent expectation of consolidation in 2023 across all major recycled polymers.
The current malaise follows on from several years of market tightness – particularly for packaging grades – and record high or multi-year high prices across the majority of recycled polymer grades in H1 2022.
Nevertheless, there remain underlying structural shortages – particularly of packaging suitable material – and sustainability pressure from regulators and consumers shows little sign of abating.
Most market players agree that, as a result, the pendulum is likely to swing back from its current extreme in the mid-term. The only real questions are around the timing, the depth, and what the market will look like when it does.
Consumption during most of Q2 has fallen by up to 50% year-on-year for non-packaging applications and up to 30% across packaging, according to market estimates, and has underperformed expectations since Q4 2022.
This is due to a combination of:
· Bearish macroeconomic conditions and high inflation minimising consumer purchasing power
· Ongoing high costs, chiefly linked to energy, reducing industrial output
· Colder-than-average temperatures in the first half of 2023 blunting beverage, horticulture and outdoor furniture demand
· Substitution to comparatively low-priced virgin and off-spec markets.
Q2 is typically the peak season for many recycled polyethylene terephthalate (R-PET), recycled polyethylene (R-PE) and recycled polypropylene (R-PP) applications such as the beverage sector, construction, outdoor furniture and horticulture.
While temperatures across Europe may now be rising, the ongoing cost-of-living crisis means the prospect of a peak season in any recycled polymer market in 2023 is rapidly evaporating.
Differing levels of inflation across Europe, along with differing energy costs (which although now declining remain above their pre-2022 levels), government support measures, local supply and demand conditions have led to deeply fragmented markets. This has widened the spread of prices across Europe. Compounding this is the frequent appearance of distressed cargoes on the market in various parts of the chain, with some players needing to offload material to free up storage space or to raise cashflow.
As the inventory levels back-up the supply chain, particularly for feedstocks, storage space is becoming increasingly limited. Consequently, storage costs are rising and adding to overall production costs, diminishing the impact of lower energy prices. The cost-of-living crisis has also generated demand for higher wages, another factor impacting recyclers' operating costs.
Consolidation risk
Most players in the recycling chain do not have the same level of cash reserves to draw upon as in the petrochemical space. Absent of those deep pockets, players in the recycling chain are not thinking in 10-year cycles. Many small and mid-sized players are instead currently thinking about trying to keep the lights on.
Margins across non-packaging grades in particular are currently squeezed. For key recycled polymer markets such as recycled polyethylene (R-PE) and recycled polypropylene (R-PP) these represent the bulk of produced volumes – even for the majority of players that also serve packaging sectors.
As an example of how squeezed margins currently are, the spread between post-industrial polypropylene black bales and black pellets (the most prevalent of the R-PP grades in Europe) is currently at a 26-month low, and April monthly contracts saw the spread between R-PP black flakes and downstream R-PP black pellets hit a record low.
The spread between black flakes and pellets widened off of record lows in May monthly contracts, but remains narrow.
It is because of these narrow margins, and the absence of deep pockets to weather the storm, that players have been warning since Q4 2022 of potential consolidation in 2023 – either through mergers and acquisitions, or through bankruptcies. 2023 has already seen the closure of some plants.
Intensifying the consolidation risk, the high prices and supply shortages seen in recent years led to an increase in investments in things like multi-stage infrared sorting technology in the recycled polyolefins chain, investment in flexibles recycling, and investment in flake to preform plants in the recycled polyethylene terephthalate (R-PET) space. The majority of these investments have yet to be recouped.
"The recycling supply chain had built considerable momentum in improving supply, in terms of both volume and quality," said Helen McGeough, Senior Analyst, Plastics Recycling, ICIS.
"Much of which has been lost during 2023 as recycle rates across so many markets have regressed to lower levels. Regaining this ground adds to the multitude of challenges recycled polymers markets face as a sector already under intense scrutiny by consumers and legislators.
"Not only are investments on hold because of financials, but the U-turn by many end users in their attitude to recycled content levels so far in 2023. This has not only unnerved suppliers, but severely damaged confidence levels that demand will return before the end of Q1 2024.
"Yet demand will return as 2025 goals approach and the question is how this demand manifests itself. No player wants a repeat of 2022 market conditions, but they crave more stability to keep a steady momentum towards the shared goals of greater circularity of plastics."
Rising volatility
If nothing else, the recent malaise has shown that while sustainability remains a key market driver, all markets ultimately remain subservient to macroeconomics. Macroeconomic conditions remain volatile and unpredictable, while continued falls in virgin values are adding further negative pressure on recycling markets.
It is not just the macroeconomics that are currently volatile but also prices. As demonstrated by Europe recycled polyethylene terephthalate (R-PET) colourless flake values (which ICIS has been covering since 2006), the market is currently experiencing a peak in historic volatility last seen in the wake of the global financial crash in 2008/2009. Historic volatility shows the annualised standard deviation of prices from their average over time).
The current high historic volatility has been the result of a 'boom' followed by a 'bust,' whereas the period following the financial crash was the inverse – where price reached a peak following the downturn.
Volatility and unpredictability typically create cautious purchasing strategies among both consumers and industry – what economists refer to as the 'cost of uncertainty.' They also typically result in the postponement of investment.
Fast Moving Consumer Goods (FMCG) recycled content targets – many of which are due to mature in 2025 – remain ambitious and aggressive, even if current demand remains weak. There remains insufficient supply – particularly of recycled polyolefins – of packaging suitable material to serve those markets. Coupled with this, increasingly stringent regulation is also being proposed.
In November 2022 the EU Commission proposed draft legislation that would replace the existing Packaging and Packaging Waste Directive (PPWD) with a new Packaging and Packaging Waste Regulation. Part of the regulation proposes minimum recycled content targets of 10-35% by weight by 2030 and 50-65% by 2040, depending on packaging type.
The proposals have not yet been adopted into law, but do suggest the direction of travel. The EU Commission has previously said that it has also considered the introduction of minimum recycled content targets for the construction and automotive sectors.
Any market consolidation now, or postponement in investment will make these targets increasingly difficult to meet, while the political landscape conversely makes them more difficult to roll-back without reputational damage.
That will increase competition for high-quality material, and could see a repeat of the dramatic shortages seen in H1 2022. It could also mean that when the market demand does rebound, the pendulum may swing back harder and faster. When that might be, though, and the resilience of the chain to survive until then, though, is anybody's guess.
If you liked this article, you might also enjoy:
McDonald's Director of Sustainability in Europe on the company's approach to packaging sustainability
McKinsey on whether or not on-pack sustainability claims affect consumer spending
Perspectives from industry-leading experts on the EU's Packaging and Packaging Waste Directive revisions
A deep dive into the most important packaging sustainability trends and solutions