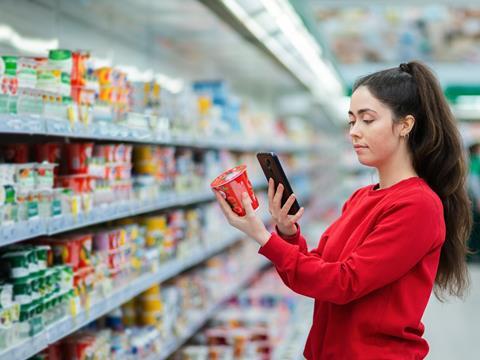 The implementation of connected packaging has so far yielded mixed results for consumer packaged goods brands. Jeremy Yates, director of strategic partnerships at Happy Finish, discusses how brands can harness the potential of connected packaging by engaging consumers with clear calls to action, accessible technology, and immersive storytelling.
'Make the product the hero' is one of the classic rules of advertising, a phrase that's been said by the likes of David Ogilvy and Sir John Hegarty, and a principle that lies at the heart of some of the most successful agencies. This rule was initially intended for traditional advertising; a blueprint for brands to create campaigns that made their audience identify with the product. The ultimate extension of this principle and an enormous opportunity to amplify this type of messaging is with connected packaging.
Connected packaging, in a general sense, refers to the addition of 'triggers' to physical packs, enabling consumers to access digital content from digital devices. It gives brands an opportunity to extend the product experience and transform passive products into experiential and interactive touchpoints.
The overwhelming majority of brands have been 'connecting' their product packaging in one way or another for years. This attempt to bridge the gap between the physical and digital is nothing new (often described as 'phygital' - I wish there was a nicer word). It started with a clunky URL printed on packaging, then a few social media icons and more recently, fuelled by the ubiquity of smartphones, QR codes.
While many brands have experimented with connected packaging (I'd go as far to say almost all major CPG brands have used it at some point), many large brands are still failing to incorporate these moves into well thought-out campaigns. It's often the case with new technologies that what starts with a brand's innovation budget, in time, moves to a local brand teams' budget, before finally a central budget is set aside in order to deploy efficient, cost-effective strategies that gradually shift consumer behaviour and provide brands with essential data. This process is underway but should be accelerated.
In the last decade, mistakes have been made. But these mistakes are all easily fixable if the right approach is taken.
Neglecting a visual 'call to action' informing and incentivising users to scan is a common one. Often the thinking is that putting a QR code is enough by itself, or that using image recognition will remove the headache of having to change packaging. Neglecting a call to action will lead to poor results, no matter how much you call it out on other channels.
Taking users to a bland website or video is another common failure. The content should provide utility or offer entertainment. That doesn't necessarily mean it has to be incredibly visual and 'wow' everyone that views it (although this can help), it might be that it provides greater depth to allergy information, for example.
The important thing to remember is that the end-user rarely cares about the technology they're using - they care about how useful, cool or entertaining it is. Few will share a Snap filter or play Pokemon Go thinking 'wow, augmented reality is cool'. Remembering this helps steer you away from gimmicky and novelty use of the tech and focus on what matters, the end user experience.
There are three key reasons connected packaging's time has come.
New ways to tell stories: Brands can tell stories from packs like never before. Immersive augmented reality content and powerful web-based experiences allow brands to communicate easily accessible content that captures the imagination of their audience, presenting stories and allowing a level of engagement that we haven't previously seen.
Only a couple of years ago, multi-surface, web-based augmented reality experiences like this one developed for Sony LinkBuds (by Happy Finish) would not have been possible.
The QR resurgence: It was only in 2012 that INC Magazine reported that 97% of people didn't know what a QR code was. Covid check-ins changed all that. Couple this with the fact that the majority of smartphones allow easy and quick scanning from the native camera, and this is no longer a barrier to entry. It's now categorically the quickest and easiest way to connect packaging to your average consumer.
Just recently, the minimalist QR code Super Bowl ad for Coinbase was scanned so much that it crashed their app. If this isn't a sign people are willing to scan QR codes, I don't know what is…
The power of technology: The ever-increasing power of the computer attached to our hands is allowing for game-changing functionality. Dual, triple, quad or even penta camera smartphones allow for a level of environment recognition that means we can accurately detect surfaces/objects and blend digital content into the physical world, and through the addition of geo-located experiences, increase the contextual relevance of the experience. Ever-increasing device processing power permits a new standard of graphics on mobile and 5G/ hardware space paves the way for more complex and immersive experiences.
For consumers, all this is a natural continuation of the moves towards using smartphones as digital discovery tools. It allows for entertainment from packaging in the form of mini-games, or music-based experiences such as Tuborg's connected pack experience, through to improved accessibility (as seen with Kellogg's move to highlight allergen information to partially slighted consumers).
Better access to information about provenance and sustainability information is another consequence, as well as useful information such as recipes, cooking instructions, recycling guidelines, assembly instructions, etc. It's all of interest to consumers and therefore valuable to brands from an engagement point of view.
If we're set on making the product the hero, why not let it tell its own stories? Turn it into a channel and connect to your audience from your own media. Make the product a central part of your storytelling and media strategy.
I'm sure there have been a million meetings with brand teams discussing the best use of space on packaging. Add a QR code, a call to action and a meaningful experience, and you have more 'space' to communicate with a user than ever before.