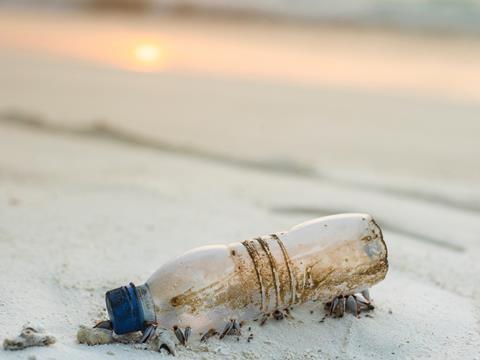 Chemical recycling may not be a perfect solution to the plastic waste problem, but in certain scenarios, it's the best answer we have. Ignacio Gavilan, sustainability director at The Consumer Goods Forum, tells us more.
Our relationship with plastic needs to change, and fast. Of the 8.3 billion tonnes of plastics produced since the 1950s, around 60 percent has ended up in landfill or the natural environment. This cannot continue. We must change our collective relationship with plastics. Plastic can have an important role in getting people certain food, drink and other products in a safe and reliable way. But to protect people and the planet while meeting the needs of a growing global population, we need a system change.
Of course, the focus must be on reducing our dependency on plastics in the first place. We need to source more sustainable alternatives, improve packaging design, curb the use of problematic materials and remove excess packaging. Reuse and refill models are also hugely important.
Yet plastic is still an important material – so improving and extending plastic recycling is vital. The problem is that the current standard technology, of mechanical recycling by crushing and remelting, isn't suitable for all plastics, and has limits in producing recycled plastics suitable for food contact. In certain scenarios, chemical recycling, when done properly, is the best answer we have.
Unlike mechanical recycling, chemical recycling changes the plastic's molecular structure, breaking it down into its building blocks and transforming them into valuable secondary raw materials. These can then be used to produce new chemicals and plastics.
Chemical recycling has the potential to recycle post-consumer flexible plastic packaging materials and other mixed, degraded or contaminated polyethylene and polypropylene-based plastic waste that is hard to recycle today – turning it into materials suitable for use in new food-grade plastic that meets European regulations.
The science shows that chemical recycling is a preferable option compared to incineration of hard-to-recycle plastic waste. The Consumer Goods Forum (CGF) has published a chemical recycling Life Cycle Assessment study, which examines the environmental impacts of pyrolysis – the most mature chemical recycling technology – over a set timeframe.
Independently reviewed by experts from the United Nations Environment Programme, research and private sectors, the study demonstrates that in Europe, the greenhouse gas emissions produced by the chemical recycling of hard-to-recycle plastic waste in a circular system are 43 percent lower than those created by conventional plastics incinerated with energy recovery. Not only does this process turn waste back into useful materials, but the associated reduction in emissions should be taken seriously in a rapidly warming world.
We believe there is a positive case for a credible and safe chemical recycling system, as part of our advance towards a circular economy. Guided by the Ellen MacArthur Foundation's global commitment on plastics and the recent landmark UN Treaty on Plastic Pollution, CGF is committed to driving progress towards a circular economy for plastics. This means taking a different approach to production, consumption, recycling and disposal. Through human ingenuity, we can evolve the current extractive, linear model into something far more innovative that respects both people and the planet.
The size of the challenge is huge, but it is also shared. Only through collaboration will humanity solve urgent environmental issues, including the plastics problem. Common commitments are essential. With this in mind, our Plastic Waste Coalition of Action recently published a paper that sets out some guiding principles for supporting chemical recycling development and providing a clear set of boundaries for the use and scale of the technology.
'Chemical Recycling in a Circular Economy for Plastics' focuses on six key principles for its credible, ethical, safe and environmentally sound development, which relate to: the complementarity with mechanical recycling; material traceability; process yields and environmental impact; health and safety; and claims.
At CGF, we want to work in partnership with consumer goods manufacturers and retailers to drive awareness and action on the role chemical recycling has to play. Our paper is designed to help inform both internal company positions and discussions with regulatory decision-makers, industry associations and public or private partners. A roadmap for the way forward, it sends a strong signal to the public and private sector, including investors, that chemical recycling should receive proper funding and an appropriate regulatory framework for scaling.
The global plastics problem is highly complex. There is no silver bullet. It requires a raft of different solutions from policymakers, businesses and consumers themselves. When it comes to hard-to-recycle plastics, we must build a recycling industry that can meet its targets for all packaging types, deliver food-grade packaging and unlock strong environmental outcomes. Together we can do this, but we must do it now. We need widespread industry action.
There are many components needed to achieve a more positive future for plastic – and the focus must be to reduce dependency on plastics and improve packaging design. But where plastic packaging cannot be eliminated, reused or recycled using other methods, chemical recycling – used in the right way – has a role in the circular economy. Chemical recycling may not be perfect. But in the absence of other alternatives, it is certainly better than incineration, and it can contribute to a world where no plastic ends up in nature.