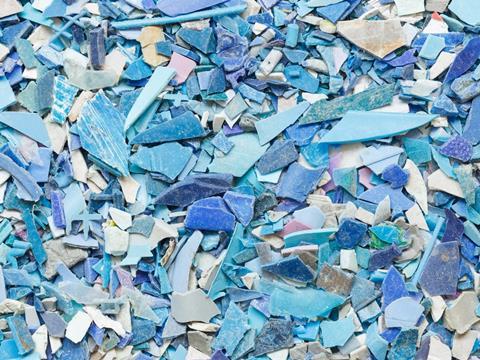 Organisations from various major market sectors have called upon the European Commission and Member States to adopt mass balance as a means of developing EU-harmonised calculating rules for recycled content in plastics applications in order to meet revised environmental targets.
Signatories include the Alliance for Beverage Cartons and the Environment (ACE), Altstoff Recycling Austria (ARA), the European Chemical Industry Council (Cefic), CEFLEX, Chemical Recycling Europe, Der Grüne Punkt, European Plastics Converters (EuPC), EUROPEN, EUROPUR, Flexible Packaging Europe, Polyolefin Circular Economy Platform (PCEP), Plastics Europe, Valipac, and Valpak.
Mass balance is thought to be a transparent and auditable method of tracing material characteristics across a value chain, with the solution already having been implemented in areas such as sustainable forestry and fair-trade cocoa and chocolate. If a mass balance chain of custody to calculate recycled content in plastics is taken on in 2023, it is expected to provide Member States with enough time to plan, finance, secure permits, and construct the necessary recycling units and accompanying infrastructure to meet the Packaging and Packaging Waste Regulation's targets for recycled content in plastics by 2030 or 2040.
The statement goes on to suggest that an EU-harmonised calculation and verification method should stipulate how to allocate recycled content to output products, with a fuel-use exempt model thought to result in a robust system that is both viable with chemical recycling routes and useful for producers and users of recycled content aiming to implement the required amount of plastic recyclate. Third-party verification and certification of the calculation method is also necessary to cement credibility across the value chain and assure consumers of the method's legitimacy, the signatories say.
For overarching environmental goals to be reached, investments into commercial-size chemical recycling must apparently begin immediately. As such, policymakers are called upon to clearly and coherently determine when and how a mass balance chain of custody will be applied in the EU as soon as possible; this is anticipated to contribute towards a circular economy and strengthen the strategic autonomy of the EU in its raw materials, as well as taking steps towards meeting climate targets.
According to the statement, investments in climate-neutral production and supply chains should be backed up by support for initiatives that prevent the generation of waste, as well as those that reuse plastics and facilitate the rapid scaling up of mechanical, organic, and chemical recycling. Mechanical recycling should remain as the general method of choice for recycling, the signatories say, due to its cost-effectiveness, environmental performance, and recycling yields.
However, they reiterate that all recycling technologies should receive funding, as chemical recycling enables plastic waste – especially that which is incompatible with mechanical recycling processes – to be repurposed into new chemicals, including new plastics. These plastics are applicable to contact-sensitive packaging in the pharmaceutical, food, and cosmetic sectors, among others, as well as medical devices, automotive components, construction products with safety, regulatory, and performance requirements. As such, EU-harmonised rules for calculating chemically recycled content are also deemed to be important.
Additionally, the signatories suggest integrating chemical recycling facilities into existing large-scale industrial plastics production installations as a viable and efficient way of bringing them to scale. This move is expected to prevent the additional cost, energy, and carbon footprint of segregated production facilities. To prevent the irreversible blending of virgin and recycled feedstocks in complex large-scale installations, a mass balance chain of custody is encouraged to enable the successful commercialisation and promotion of recycled content from technologies where it is needed.
In another joint statement, Copa-Cogeca, Freshfel Europe, and Europatat criticised the Regulation on Packaging and Packaging Waste for its ban on single-use packaging for fruit and vegetables weighing under 1.5kg, instead encouraging an uptake in such solutions as ecological labelling to prevent a rise in food waste.
A cross-industry coalition of companies from the European hospitality and beverage industries and its packaging value chain has also expressed its concern that businesses and consumers could be affected by the improper implementation of reuse and refill schemes, calling for an improved impact assessment surrounding the proposal for a Packaging and Packaging Waste Regulation.