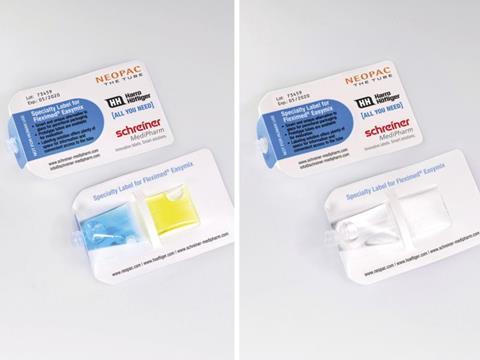 Schreiner MediPharm in collaboration with tube manufacturer Neopac and machine producer Harro Höfliger developed an innovative label for a pharmaceutical tube.
The special marking label encloses the tube like a pocket, offers ample space for information and can be automatically dispensed on packaging lines.
Schreiner MediPharm designed the label for the Fleximed® Easymix tube of the Swiss company Neopac, a specialist in the development and production of pharmaceutical tubes. The transparent tube provides an alternative to conventional glass vials and consists of two separate chambers filled either with two different liquids or a liquid and a powder. They are mixed shortly before the medication is administered by compressing the tube chambers which are separated from each other by a flexible seam. The marking solution developed by Schreiner MediPharm consists of a front and rear part and encloses the tube like a pocket. Due to its special design, there is ample space for text. A cutout in the label provides an unobstructed view of the individual components of the two tube chambers—an important function enabling the user to check if the two components have optimally mixed before the medicine is administered.
Another benefit: The innovative label design enables smooth automatic dispensing on packaging lines. Schreiner MediPharm worked closely together with Harro Höfliger, a manufacturer of production and packaging equipment with high expertise in engineering special machines for the medical device and pharmaceutical industries and Neopac's project partner in developing the tube filling and sealing processes.
Maximilian Jaeger, Development Manager at Schreiner MediPharm, summarizes the challenges posed to the label development forthe two-chamber tube: "The geometry and particularly the deformation of the tube when compressing it are not suitable for a conventional self-adhesive labeling solution. The label has to accommodate a lot of information which must be inseparably connected with the tube and readily legible. At the same time, the view of the tube content must not be obstructed and possible migration of the label adhesives into the tube content has to be excluded."