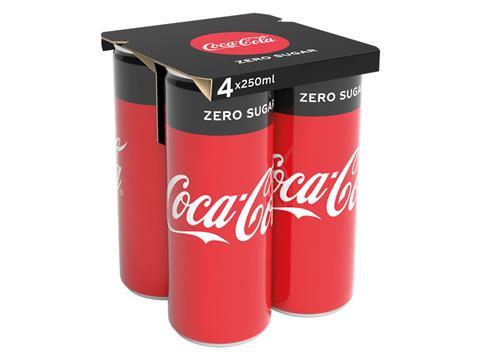 Coca-Cola and its strategic bottling partners have announced that they will begin rolling out an innovative packaging solution on multi-pack cans across Europe.
The company argues that this move, representing a first for the non-alcohol ready-to-drink (NARTD) industry, indicates the Coca-Cola system's commitment to working towards its global goals for a World Without Waste.
The three partners have worked closely with Graphic Packaging International - developer of the KeelClip™ technology - to bring this packaging solution to market. This new type of packaging aims to replace plastic wrap while also minimizing the amount of paper/card required.
As part of this initiative, Coca-Cola HBC will remove shrink wrap from all its can multi-packs in all European Union markets by the end of 2021. In total, Coca-Cola HBC will invest €15 million in KeelClip™ and will begin the roll-out in Ireland and Poland early next year, followed by Austria, Italy, Switzerland, and Romania in 2020. All of Coca-Cola HBC's European Union markets will have KeelClip™ by the end of 2021, in a move that is projected to save 2,000 tonnes of plastic and 3,000 tonnes of CO2 annually. The KeelClip™ will be used on all can multi-packs of up to eight cans, larger can multi-packs will be bound by a carton pack.
Coca-Cola European Partners committed in October to removing all unnecessary or hard to recycle plastic from its portfolio, avoiding the use of more than 11,000 tonnes of virgin plastic a year across the countries where it operates. It will roll-out KeelClip™ in the Netherlands early next year with more markets to follow, investing €14 million in its factory in Dongen, Netherlands to install a new can line and a KeelClip™ packaging machine.
Marcel Martin, Group Supply Chain Director, Coca-Cola HBC said: "KeelClip™ is our latest investment in innovative, sustainable packaging solutions. Alongside the four water brands we introduced this year in 100% recycled PET bottles, the increased use of recycled PET, and continued lightweighting across the portfolio, KeelClip™ is another demonstration of our commitment to delivering our World Without Waste goals."
Joe Franses, Vice President, Sustainability at Coca-Cola European Partners said: "Innovation is a key principle of our sustainable packaging work and the application of this fully recyclable paperboard KeelClip™, which comprises a top board that the cans clip into and a central cardboard 'keel' - similar to a ship's keel - that stabilises the pack, is another example of how we are delivering on our commitment to remove all unnecessary and hard to recycle single-use plastic from our products."
Steve Gould, Graphic Packaging International's New Product Development and Marketing Director, Beverage Division, Europe said: "The KeelClip™ technology is effective for can multi-packs of various diameters and heights. This means that we can provide a safe, effective package with no need for secondary plastic. When businesses such as Coca-Cola HBC and Coca-Cola European Partners invest in these technologies, we can really make a difference to the way we package goods and drive the industry to continue to change too."