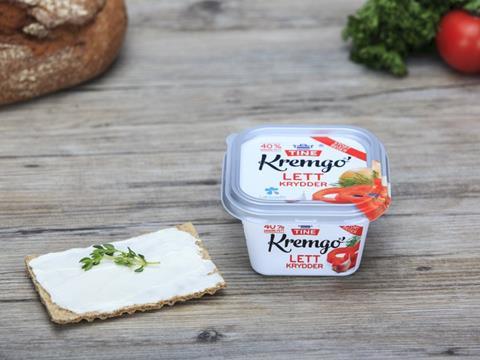 Advanced in-mould label thermoforming (IML-T) from RPC Bebo Plastik, combined with the company's in-house Bebo Print lid printing technology, are helping to enhance the on-shelf presence of the Kremgo® range of cream cheeses from Tine SA, Norway's largest producer, distributor and exporter of dairy products.
The 88 x 88 mm square polypropylene tub for the new Kremgo® Lett lighter varieties also incorporates a special light protector to protect the cheese and maintain its freshness and taste.
The ability of the IML-T process to apply the pre-printed labels to the pack during the thermoforming process provides all-over decoration with high quality graphics to deliver strong branding. This is further enhanced by the Bebo Print technique of printing the lid sheet prior to thermoforming, which means the entire area of the lid is also covered.
The resulting pack creates an eye-catching and appealing look in competitive retail markets, while the lightweight easy-to-handle design delivers maximum consumer convenience.
More info: