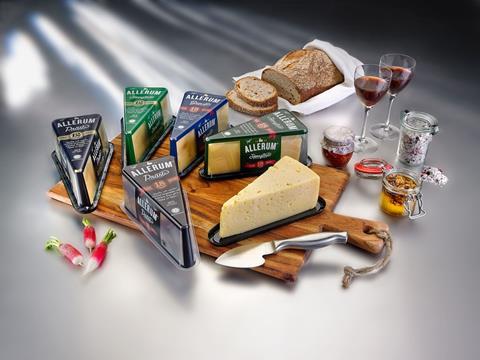 A convenient bespoke solution from RPC Superfos is breathing new life into cheese packaging for the latest high-end cheese from Skånemejerier, a leading manufacturer of mature cheese in Sweden. Used for the company's new Allerum mature cheese, the wedge-shaped pack with oxygen-barrier label ensures that customers have no need for a serving plate and hardly any finger-contact is required to serve the product.
"Convenience is a significant trend and, generally speaking, cheese packaging has not really changed since the 1950s," explains Jannica Andersson, Brand Manager Allerum & Cheese at Skånemejerier. "We wanted to step up and offer consumers a striking new solution for our Allerum series of mature cheese. With the bespoke pack from RPC Superfos, we are now rejuvenating the image of cheese packaging and have a container that makes our cheese stand out from the crowd."
The solution features a wedge-shaped injection moulded polypropylene pack with an inner plastic seal and an oxygen barrier label. Part of the upper section is transparent, making the tempting yellow colour of the cheese visible as part of the overall artwork design. All consumers need to do is remove the base and the plastic seal, put the base back on, turn the container upside down, remove the top cover – and the cheese is ready to serve on its triangular plate base. To re-seal and store, they simply replace the top cover.
"Our new packaging from RPC Superfos means that re-packing the cheese into a plastic bag after first use for cool storage becomes superfluous," continues Jannica. "The cheese stays aromatic and is well-protected in the pack after opening. Additionally, you reduce the number of plates that go into your dishwasher as the lid works as a serving plate."
During the pack's development phase, Skånemejerier subjected it to a range of qualitative and quantitative tests with consumers, whose responses occasioned new adjustments to the product and its technical drawings. The signal that production could begin came when consumers who tried the final version at home for a week gave very positive feedback.
"We approached a few packaging suppliers to get the project started and worked with several of them during the sketching and testing phase," says Jannica. "At the end of the day, we opted for RPC Superfos, as this provider of packaging solutions could meet all our requirements. Their team has been creative, attentive and flexible in respect of any changes in the packaging development process."
A further benefit of the solution from RPC Superfos is its full recyclability. This is of special importance to Skånemejerier, which recently achieved a 90% reduction in its climate impact by changing its source of energy from fossil fuel to district heating – an impressive achievement that is displayed on the base of the RPC Superfos solution using In-Mould Labelling.
More info: