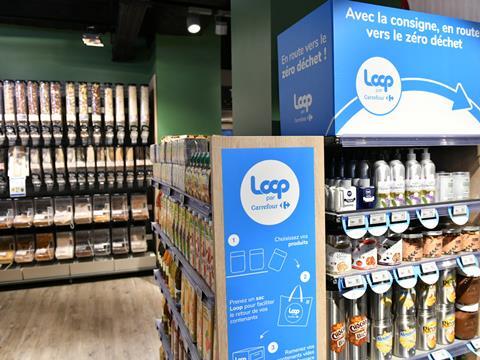 The Carrefour Group and Loop have joined forces to offer consumers a "zero waste" experience utilizing reusable and returnable packaging. Already available online, the Loop experience is now being extended in-store.
Loop products are available today in two Parisian Carrefour shops (Bizot and Beaupassage) and will be available in 10 shops by the end of the year. Based on the lessons learned from this pilot project, the initiative is scheduled to be rolled out more widely in 2021.
From glass yoghurt pots to dishwasher tablets in aluminium containers, Carrefour customers can find a range of everyday products including Nivea, Coca-Cola, Danone, Evian, Puget, Nutella, Chocapic, Ricoré, and Maison Verte in refillable packaging.
Once the products have been consumed, the customer can return their empty packaging to the shop and get their deposit refunded via a mobile application, at a dedicated collection area, or directly at the checkout.
After the containers have been returned by the consumer, Loop ensures their collection, sorting, and cleaning. The clean packaging is returned to the brands to be refilled and then be reused by the next consumer, with each container being reused multiple times.
On a visit to one of the Carrefour locations, Barbara Pompili, France's Minister for ecological transition, commented: "The fight against overwrapping and all-plastic packaging must be embodied in everyday life locations. It is essential that large retailers like Carrefour adopt circular economy solutions. This is what will enable us to change at scale. The initiative to reuse packaging via the Loop solution is a step in the right direction.
"Tomorrow, everyone should be able to consume their everyday products in reusable containers. This is how we will reduce the amount of single-use plastic at the source and meet the objectives of the anti-waste law for a circular economy."
Blandine Surry, general manager of Loop Europe, concludes: "The waste crisis calls for the invention of alternatives to single-use packaging. The launch of the Loop initiative by Carrefour marks an important step in the transition towards zero waste consumption. We look forward to building with Carrefour, and all our partner brands, the future of reuse in France within the framework of the objectives of the anti-waste law."
In a separate announcement, TerraCycle revealed that it has completed a Series A "Founding Investors" capital raise of $25 million for Loop – the capital is expected to fund operations for profitability. Investors include P&G, Nestlé, SUEZ, Aptar, Sky Ocean Ventures, ImpactAssets, and Quadia.