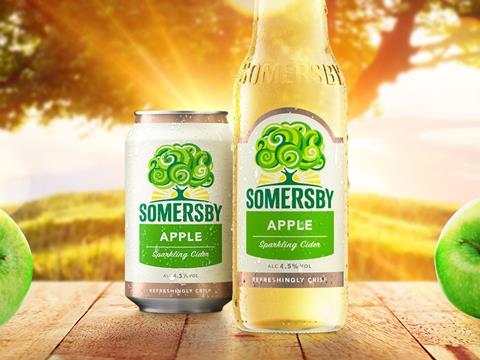 Carlsberg Group has revealed a refreshed visual identity for its cider brand, Somersby.
Created with Elmwood Leeds, the refreshed positioning aims to establish a new brand experience platform for Somersby and provide a clear brand architecture and visual identity system that seeks to enhance the existing brand's distinctiveness in each of Somersby's key markets.
With the entry of new competitors, the company's goal was to create a culture of optimism, connecting with consumers' desire to seek moments of happiness with friends and family. At the same time, Carlsberg wanted to bring simplicity to its multi-tier brand architecture, as well as the flexibility to meet the needs of different market environments.
This new positioning is encapsulated throughout the refreshed look and feel, including a "distinctive, contemporary, and uplifting" word marque that serves as a pedestal for the Somersby Living Tree, the company's primary brand asset.
While the outline of the tree remains fixed, the tree's canopy changes to capture unique illustrated tasting notes, creating an architecture for each drinking experience. This approach takes the tree away from the traditional apple tree image - now an established category code – and turns it into a "distinctive, yet dynamic" brand asset. The many expressions of the living tree reportedly give consistency across the portfolio, including Somersby Apple, Blackberry, Pear, Elderflower & Lime, Watermelon, and Mango & Lime.
Pernille Arnt, Global Marketing Director, Carlsberg Group said: "Our refreshed brand and scalable brand system now ensure that we can build the brand's distinctiveness across different market environments and different life cycles of the brand without diluting the master brand. The refreshed Somersby positioning perfectly encapsulates its positivity and warmth, creating a truly stand-out brand that is refreshingly different."
Rob Skelly, Associate Creative Director at Elmwood Leeds, said: "As we embarked on this challenge, we wanted to ensure that every little nuance of the brand was considered to communicate an uplifting brightness and optimism. Somersby is uniquely crafted, a Scandinavian gem that only Carlsberg could come up with. Working with talented partners, we wanted its distinctiveness to shine through and created a flexible, yet unique design system that future-proofs the Somersby brand and allows it to continuously refresh and evolve. The living tree works beautifully across all platforms and offers us endless opportunities to engage, excite and inspire our audience."
Somersby's refreshed brand will live globally across 50 markets, on and off-trade, predominantly in Europe and Asia. According to the company, its most vital markets of focus are Australia, Canada, Poland, Ukraine, Finland, Sweden, Denmark, Bulgaria, and countries in Asia.