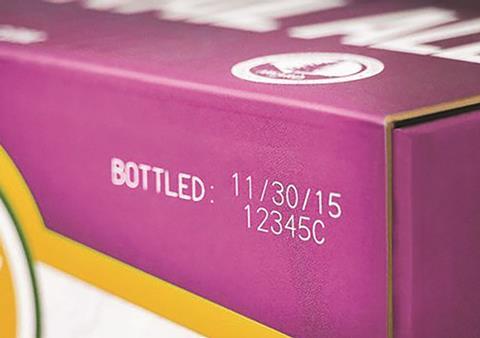 Flexibility is also a desirable feature. Many craft breweries will have a maximum of four coding points – one bottle line, one can line and a case packing point for each. The ability to easily swap printers from station to station avoids having idle printers and keeps costs low.
Other characteristics craft brewers look for in printers are machines that minimize ink wastage and can be upgraded as the brewer expands.
Low total cost of ownership is important too but this is not the same as low purchase prices. Craft brewers need reliable printers, not cheap ones that can result in more downtime and extra servicing. Ready access to support is a factor here – they need issues solved quickly.
As Tony Karlowicz of Back East Brewing, based in Broomfield, Connecticut, USA, says: "We will spend more up front to get a quality printer as it will last longer. We value low maintenance and high reliability, so would not buy very low priced products."
Suitability for the beverage industry is also a consideration. Printers need protection against water ingress and should be easy to clean and sterilize.
Designed for craft brewers
One company meeting these needs is Markem-Imaje, which has made craft brewing a focus market.
Mr. Karlowicz says: "Craft brewers form a community that talk a lot and share advice. We got the heads up from other brewers about Markem-Imaje being a company that helps our industry with our specific printing challenges. They have made an effort to understand our needs which are very different to those say of the pharmaceutical industry or a more mainstream brewer. "
It is a view reinforced by Markem-Imaje's Jason Ruthwicz: "We have a passion for beer and, like regular customers, we want to drink it fresh. Plus, we know the process, the industry and the challenges. We have probably seen more breweries than some brewers themselves."
In fact, Markem-Imaje has produced printing solutions specifically designed for craft brewing. Its 9410 small character continuous inkjet printer was unveiled at the 2017 Craft Brewers Conference. It streamlines printing and simplifies set-up as well as message editing while reducing ink waste by up to 20% for brewers running less than two shifts a day. Continuous inkjet printing is the most flexible method for craft brewers and can be used on cans, bottles and cartons at most speeds. Brewers can print on up to 1800 cans per minute, using a patented technology that continuously monitors the speed of the ink jet stream, adjusting it accordingly to maintain a good quality, cost-effective print.
The printer uses the same design, messaging management system and operator experience from the more sophisticated 9450 version. The latter is typically deployed for large-scale beverage manufacturers but, as printer brackets are universal across the entire range, craft brewers can upgrade easily from one to the other as their needs grow. There are minimal changes to printing systems and infrastructure modifications required.
Allen van Anda, co-owner of Lost Nation Brewing, of Morrisville, Vermont, USA, observes: "Markem-Imaje printers help us overcome our challenges of a small working space. They are compact yet offer rapid, clear printing. We are currently printing date codes on 60 cans a minute."
Continuous inkjet coding is just one option open to craft brewers. Laser printing can provide even sharper, more permanent codes for bottle labels as well as 6- and 12-pack cartons. For cases, large character inkjet printers, such as those using hot melt wax, offer high resolution text and graphics, producing a crisp, highly legible result. This technique is most often used by the larger craft brewers keen to differentiate themselves beyond just the consumable unit level.
Printers used at the filling stage should be stainless steel with high-quality pumps, seals and gaskets to prevent water entry along with printheads that are pressurized against water ingress. "You need to thoroughly clean down your equipment for hygiene reasons," explains Todd Bissell, a senior sales engineer with Markem-Imaje. "Equipment should be rated to IP55 standards, meaning it is protected from low pressure water jets in any direction. Too often, we come across craft brewers who have invested in printers not rated to that level and thus faced problems down the line."
Also, whichever supplier is chosen, they should have experience working with original equipment manufacturers (OEMs) to integrate printers into solutions designed to suit the needs of this community. Mr. Ruthwicz notes: "Most craft brewers have no experience of printing. They need an experienced partner who makes their life easier by teaching them about coding and solving problems so they can focus on other priorities."
Mr. van Anda confirms the importance of support: "We had a new line installed by a systems integrator that featured a Markem-Imaje printer. A big challenge was moisture condensing on the cans, causing legibility issues. Markem-Imaje found us the right solution: changing the printer and ink.
"The Markem-Imaje rep went out of his way to solve our issue. Date coding is critical to us as a quality indicator of our beer's freshness. It was vital to us to get this issue resolved as fast as possible."
The future of craft brewing remains bright and printing, done well, will play its part.