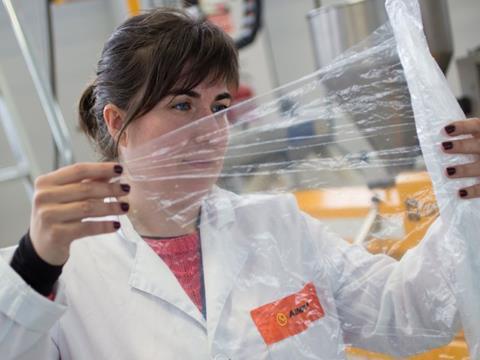 The project BIOVEGE, in which AIMPLAS participates, has resulted in new biodegradable films and nets for horticultural products and food colourants and additives from waste coming from products harvested in the field of Almería.
In Andalusia, about 500,000 tons of fruit and vegetable by-products that cannot be recovered are produced, so they are landfilled. From this waste and in line with the philosophy of a circular economy, the project BIOVEGE has made possible the extraction of substances of high value for the packaging and food industry.
In particular, these are the elements developed from sugars obtained from watermelon and melon:
• Different types of biodegradable films with a thickness of 23 µm to be used as shrink film for the packaging of cucumbers and the manufacturing of bags for weighing all kinds of agricultural products.
• Biodegradable oriented net for the packaging of different agricultural products, oriented net for garlic and non-oriented net for green beans.
On the other hand, from other waste horticultural products such as tomato and pepper, active substances like vitamins, antioxidants and food colourants that have allowed to obtain the following products:
• Single-serving sachets of vinaigrette dressing supplemented with 5% of lyophilized tomato and olive oil supplemented with 1 % of green pepper phenolic extract, obtained by pressurized fluids. Ready-to-blend gazpacho made of lyophilized tomato, pepper and cucumber by-products. It is a powdered preparation to cook gazpacho in situ, ready to mix with water and drink. It maintains all the properties of fresh gazpacho, but with a higher shelf life and vitamin C.
• Meat preparations enriched with an antioxidant capacity of more than 20% with respect to controls due to the incorporation of pepper by-products.
• Tomato and pepper-flavoured flour enriched with an antioxidant capacity that incorporates lyophilized tomato and pepper by-products in its formulation.
• Natural food colourants from lyophilized red pepper by-products as a replacement of artificial food colourants (cochineal (E-120) and carotenes (E-160a)) without differences regarding colour and giving aroma and taste to meat and vegan products.
Coordinated by Alhóndiga La Unión, other four companies have already taken part: Ecoplas, Morera y Vallejo Industrial, Torres Morente and Domca. The technical part of the project has been led by AIMPLAS and other research centres have participated: Tecnalia, Cidaf and Las Palmerillas Fundación Cajamar. Moreover, it is funded by the Centre for the Development of Industrial Technology (CDTI) through the ERDF Innterconecta 2015 programme.