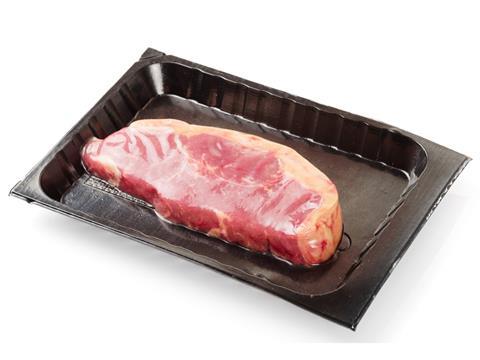 The objectives of increasing barrier properties and decreasing the amount of packaging material both answer the calls of sustainability and cost efficiency. Better barriers cut food waste; thinner substrates translate to material and energy reductions. However, the two objectives are often in tension. Tim Sykes and Libby White explore the technological strategies and trade-offs involved in balancing them.
"As a general rule, the thinner the material, the barrier properties reduce," remarked Nigel Lawrence, manufacturing director at Aegg Creative Packaging. "For instance, with vacuum forming (as compared to injection moulding) it's more difficult to control the wall section in the corners which have to stretch further and thereby become thinner whereas with injection moulding the wall sections are more consistent across the complete package. Food manufacturing customers need to understand what shelf life/barrier protection they need and the shelf life required."
A similar balancing act is played out across a range of packaging substrates and manufacturing processes. "Competing demands and requirements make innovation in film barrier technology complex to achieve," echoed Erwan Cadoret, business manager, Barrier Films, at LINPAC (Klöckner Pentaplast). "An increasingly global food supply chain means accomplishing extended shelf life is paramount to food manufacturers and retailers. At the same time, the sustainability agenda, which combines the drive to reduce packaging, cut food waste and adopt more planet-friendly recyclable, biodegradable and compostable solutions, is pushing technological advancements in film barriers in a different direction."
The picture is further complicated by additional demands such as supply chain efficiency, packaging functionalities and recyclability. So how what strategies in R&D or purchasing can help packaging users navigate this problem?
Migration to flexibles
A widespread downgauging strategy among brand owners is of course replacing a rigid packaging solution with a flexible alternative, which has driven the remarkable growth in market share by pouches over the last five years.
"Lightweighting isn't the only sustainability benefit deriving from the migration from rigid to flexible packaging," pointed out Carl Stonley, technical account manager, region Benelux UK & Ireland at Mondi (Consumer Goods Packaging). "It also means getting more product on each pallet and more product per load, and this space efficiency of course translates to a reduction in transportation footprints."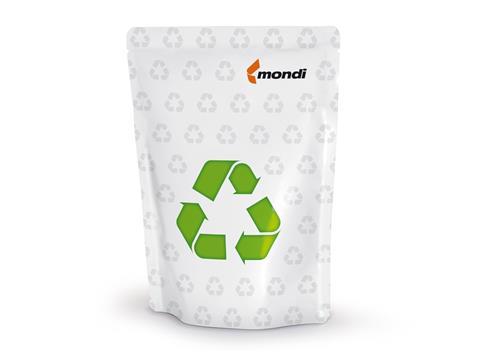 The immediate challenge for flexible alternatives is often to integrate new functionalities that replicate those of traditional rigid formats or mitigate the limitations of a basic pouch.
"Adding some innovations to deliver the necessary functionality a flexible packaging solution can replace a bag in a carton," Mr Stonley continued. "For instance, we've been working with a cereal brand to create a new flexible primary packaging solution that eliminates the need for secondary packaging. It's easy to open thanks to three-contoured laser lines, easy to pour thanks to a pouring feature created in the gusset when the pack is opened, and a zipper provides re-closing functionality."
As for downgauging the flexible substrate, composite films offer one path towards the barrier / lightness sweet spot. "Lightweighting by thickness alone can be problematic for moisture and oxygen barriers," said Mr Stonley. "However, we've been working on this weight/barrier relationship for some time. Investment in co-extruding facilities have enabled us to produce films using combinations of PE/PA/EVOH/PA/PE/PE/PA that are both lighter and provide improved barrier properties."
Multilayer films
LINPAC (Klöckner Pentaplast) also looks to the composite materials as a solution. "In some cases we have increased the number of layers in our barrier films," said Erwan Cadoret. "Through clever engineering and downgauging initiatives, along with investment in a state-of-the-art new production line at our manufacturing site in Pontivy, France, we are developing new generation film solutions which are thinner and lighter than ever before. These films have a lower carbon footprint and use less material, yet retain all functionality in terms of shelf life performance and strength.
"A notable new formulation created using our new multilayer extrusion process, is the ultra-thin LINtop® PE HSF - a 25μm high barrier lidding film for retail-ready modified atmosphere packaging (MAP) formats. The film contains anti-fog properties and a tailor-made shrink performance ensures tight, wrinkle free packs with outstanding clarity to boost consumer appeal. It is leak proof and the high barrier performance and excellent seal extends shelf life, keeping food fresher for longer and reducing food waste. Furthermore, the film is printable – removing the need for additional packaging around the pack."
Another breakthrough is a new multi-layer thin-gauge LINtop® PE LSF - a 30μm high barrier lidding film also for retail-ready MAP. It offers the same anti-fog properties, printable features and shrink performance as the high shrink film but is suitable for inside-cut tray sealers as well as outside cut and is designed for use on high-speed thermoforming lines including multiple dies-lines.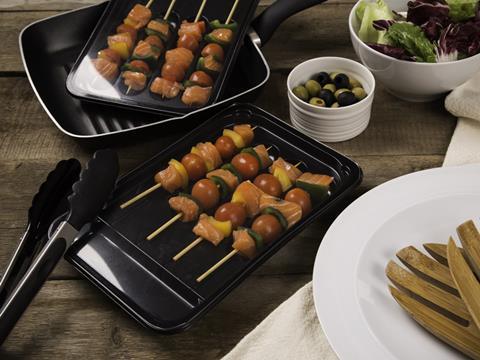 "Innovation in film barriers is constant," Mr Cadoret continued. "We have been able to transfer our downgauging processes to films for vacuum skin packaging (VSP), which offers even further extended shelf-life compared to MAP, as consumer preferences for this type of format for fresh meat have evolved. The newly launched LINtop PE HB SKIN film is illustrative of this.
DuPont is a specialist in the multilayer approach. "When we look at lightweighting and providing barrier properties, there are different approaches we can take in order to provide the best of both," Mauri Azagury, EMEA packaging business development manager told Packaging Europe. "For example, with pouches, barrier functions may be a challenge when downgauging. If a material is downgauged to a minimum for example to reduce cost, this can have an adverse effect in that during production or in the supermarket there may be more rejects. Using a high-performance material instead that allows you to downgauge can provide a win-win. Surlyn allows to downgauge whilst also providing protection for the product, for example sealing against contamination."
The devil is in the detail when to comes lightweighting using multilayer films, as every product has its own barrier and mechanical requirements. "If you are looking for an improved solution, you cannot just downgauge and expect good barrier properties, unless you are using the right materials," warns Dr Karlheinz Hausmann, R&D fellow at DuPont. "This is an area we are very active in. If you have a pouch/bag/film and there is a need for reducing packaging, we have developed a software model that tests the bending stiffness of flexible packaging. If you downgauge the structure to the maximum, the softer the material, the more it can change the look and feel of the package, eventually appearing cheaper in the consumer's eyes."
If multilayer films have the potential to perform well in handling the barrier/weight trade-off, challenges remain in the shape of more complicated recyclability and a current lack of collection and recycling across Europe: another trade-off to consider. DuPont has made bold moves in exploring the technology and business model behind reuse of mixed materials. Meanwhile, Erwan Cadoret foresees further areas of innovation in compostable laminates: "The challenge for manufacturers here has been to develop a pack that is able to fulfil its purpose as a barrier laminate on-shelf – shelf-life, product protection etc. – but which will break down easily when organically recycled. It is likely to be only a matter of time before compostable solutions, which tick all the boxes in terms of functionality and presentation, are being innovated for the transparent barrier film market too."
Material science
Another means to downgauge and maintain barrier performance while facing a smaller recycling headache is to explore some of the advanced mono-materials currently on the market, such as Dow's INNATE™ range of polyethylene packaging resins.
Mondi, at the same time as developing high-performance multilayer films, has been expending efforts to use materials with as little complexity as possible. "We'll soon be launching a mono-material stand up pouch which will be suitable for mechanical recycling, where there are suitable waste collection, sorting and recycling facilities available," revealed Carl Stonley. This is a PE based mono material for stand up pouches, using a very stiff PE/PE laminate to replace PET/PE. It also provides some attractive properties to the brand owners – it can be reverse printed for good scuff resistance and is easy opening without laser scribing.
Meanwhile, Sukano works with brand owners and converters, using masterbatches to lightweight while keeping the properties of the goods as designed. "Our newly innovative voiding agents additives masterbatches address both, lightweighting and barrier, according to the polymer and process of choice," Michael Kirch, global head of R&D, told Packaging Europe. Voiding agents are additives used to build small, fine and regularly distributed bubbles (or 'voids') in oriented applications. The voiding agents create an opaque appearance while reducing the density of the material by getting the bubbles in the film. "Sukano's latest launch is a range of additives for the BOPET industry, facilitating lighter weight films than possible under the technology on the market today, while providing the same opacity and quality processing at high filtration levels."
Mr Kirch takes milk bottles as another example. "The little more common PE bottles have poorer gas barrier properties than PET bottles for instance, just considering the material itself," he said. "Additionally, due to better stiffness, PET bottles can be produced with thinner walls while maintaining same stiffness (processes). Our masterbatches again play a role here enabling both benefits, while still protecting the packed milk against specific wavelength and allowing preforms to be re-heated at industrial productivity conditions as needed for effective production costs."
Finally, a reminder that innovation in barriers isn't confined to polymers – and paper-based packaging performs strongly in terms of lightness and recyclability. Finland-based Kotkamills Oy has captured widespread attention in its €170 million investment in the BM2 cartonboard machine project, which includes a special on-machine coater to produce water-based dispersion coated barrier boards. "This means we can offer a unique range of barrier materials that provide an easily recyclable alternative to PE-coated board," revealed David Ingham, global sales director. "Kotkamills is currently running trials in the marketplace ahead of the official launch of these products."
The new technology provides a homogeneous coating that breaks down during the paper recycling process supporting the easy recycling and reuse of fibres. Kotkamills is developing two ranges of easily recyclable barrier products. AEGLE Barrier Light and Barrier Plus are alternatives to fluorochemically treated GR board and PE coated board respectively, while the ISLA range offers easily recyclable alternatives for disposable paper cups and plates that are usually PE coated.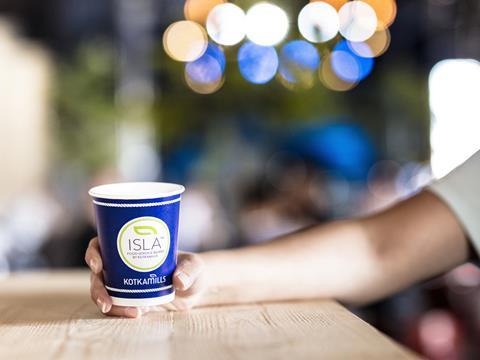 The barrier products offered are suitable for a wide range of applications, from chilled and frozen food to coffee cups. Converters are able to run these packaging materials on the same lines as current PE-coated substrates.
Packaging development is replete with trade-offs. But thanks to the innovative prowess of this industry, they need not always be resolved with messy compromises.