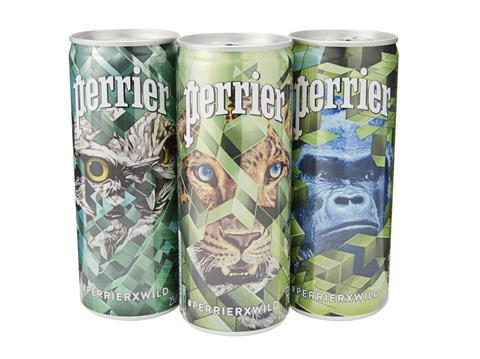 Ball Corporation, the world's leading can manufacturer, has collaborated with leading sparkling water brand PERRIER® to produce an exclusive, limited edition can for the French and Belgium markets. The limited edition, titled Perrier X Wild, has seen a close collaboration between Ball and PERRIER to bring to life the colourful and vibrant designs created by rising Cuban artist, Juan Travieso.
Celebrating the wild style and natural character of the PERRIER brand, the new limited edition explores the beauty of wildlife through Travieso's unique vision, the vibrancy of which is rendered through Ball's high definition printing techniques and capabilities. Perrier X Wild encompasses three different and distinctive designs to "embody nature in the heart of today's urban jungle" (Juan Travieso, 2017) including an owl, gorilla and panther.
The new limited edition offering utilises Ball's 25-centiliter Slim can, which further highlights the rise in brands exploring slimmer can options. Traditionally a popular choice amongst energy drink brands, the modern look of the Slim range is attracting a wide number of brands, and ensures on-shelf differentiation through the modernity and elegance of its format.
The can design uses Ball's high definition printing technique which brings the detailed graphics by Juan Travieso to life, resulting in a strong visual impact on consumers. The cans also showcase the artist's use of vibrant colors, bold geographical shapes and life-like details. As an added twist, the animal appears twice on the can, each time at slightly different angles.
Veronique Stephan, vice president, commercial for Ball Beverage Packaging Europe, says "Customers are moving away from the standard formats to other alternatives in the beverage canning range, such as the Sleek® and Slim formats. This is largely due to consumer demand for natural, low-calorie soft drinks, which is being met by a number of brands within the health, wellbeing and water sectors. Brands are trying to differentiate themselves on-shelf, but are also trying to move away from can formats traditionally associated with sugary soft drinks."
"Manufacturers positioning their product as premium offerings are branching out from plastic to metal containers, in attractive shiny colours, to magnify their premium appeal. (Source: Trends and Opportunities in the French Packaging Industry 2017). The Perrier X Wild limited edition is the perfect example of a brand pushing creative boundaries to ensure its place as a leader in this space as the market continues to grow."
The aluminum Sleek® and Slim cans offer brands within the soft drink category the opportunity to better communicate the premium nature of their products in a way which other packaging types are unable to achieve. The can provides a 360-degree canvas for a brand to communicate with its audience on-shelf, and creates premium appeal and stand-out amongst competitors - which is critical in today's crowded market. Limited edition cans, such as Perrier X Wild, perfectly demonstrate the limitless creative possibilities achievable for those brands willing to explore new options in packaging.
Sophie Vanhersecke, International Coordination & Packaging Manager at PERRIER comments: "Ball was great in helping us to create a can that showcased the wild nature of PERRIER using Juan Travieso's artwork. The team was innovative and flexible with our needs; especially with factors such as low volume orders and confidential storage ahead of the launch. The Perrier X Wild cans capture the 'wild side of life' messaging perfectly."
Jean-Pierre Hamez, Ball Graphics Manager for France and Spain adds: "Ball has enjoyed a close collaboration with the PERRIER marketing team for many years and this project allowed us to work together again. We began working with the team very early in the planning stage, to discuss suitable printing techniques that would bring the artist's designs to life in the most effective way. One of the biggest challenges we faced was demonstrating that direct printing on the can was the best solution over the use of a sleeve. We looked at all of Ball's vast printing offering and decided on the high-definition printing as we felt this would be most beneficial. We feel this partnership is one of many that showcases Ball's outstanding graphic expertise and capabilities."
The limited edition Perrier X Wild cans are available in selected stores across France and Belgium and also on Air France flights departing from Paris. They are supported through an extensive marketing program by PERRIER to raise awareness amongst consumers and on the web through #PERRIERXWILD.
More info: