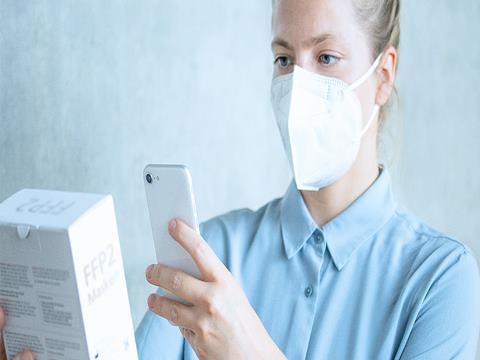 A new system that can identify whether a product is authentic or not even when a device is offline is being developed by the The Fraunhofer Institutes for Applied Polymer Research IAP, for Secure Information Technology SIT and for Open Communication Systems FOKUS.
With many counterfeit products on the market, it can be difficult to tell whether something is authentic before purchasing it. This can pose a health risk when the item in question is an FFP2 mask, another medical product or a food item.
"We are taking advantage of the fact that many people have a smart device these days," said Dr. Tobias Jochum, coordinator of the project. He went on to explain that "with SmartID we avoid various IT security and data protection challenges that arise when using a central database, as well as the high costs associated with installing, commissioning and maintaining databases."
According to Fraunhofer IAP, SmartID is building on existing technologies by offering users the ability to verify authenticity without the need for database matching. The novel system will be able to be printed on products or their packaging using current technologies.
"While in the past almost exclusively IT solutions were established, SmartID also takes into account the physical component of counterfeit protection and combines it with the best possible IT security," said Steffen Zimmermann of the Mechanical Engineering Industry Association.
Fraunhofer IAP is creating new materials for labels that can be detected by smart devices while Fraunhofer Institutes SIT and FOKUS are developing software for reading and encrypting these markers. An app enabling users to verify the authenticity of products using their smart devices will also be developed.