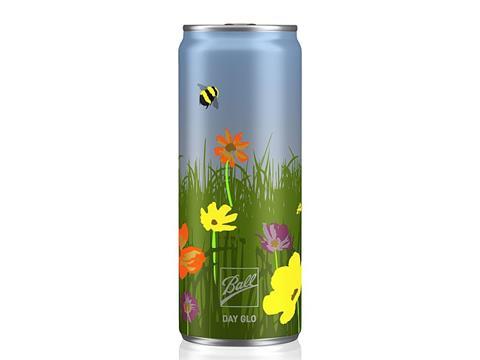 Ball is showcasing its latest innovations at BrauBeviale in Nuremberg, Germany, this November. Responding to customer demand to continue developing eye-catching and exciting packaging, the innovations aim to capture the attention of consumers in an increasingly competitive market.
A recent report from The Market Creative found that packaging offers an effective medium to engage audiences by allowing them to interact with the product before purchase, with brands that find new and exciting ways to do so, often winning new business. Responding to market trends, Ball will demonstrate the interactive possibilities provided by the can's 360-degree canvas in the three innovations it will showcase - DayGlo, Spot Matte and Enhanced Can.
The luminous and striking DayGlo can presents customers with an exciting branding opportunity by using inks that are naturally bright and radiate an intense reflection of color, with or without UV light. This allows customers to infuse artwork and highlight certain areas of their design to draw consumers in and inspire them to react to the brand. Also on the stand will be Spot Matte, a selective application of matte inks that create a sophisticated multidimensional design and enhance graphics. Using a dual effect that combines matte and standard inks onto the same can, Spot Matte technology can highlight specific elements to support brand identity and catch the consumer's eye.
Finally, Ball will demonstrate an advanced consumer interaction technique with its Enhanced Can, which uses Digimarc watermarking technology to integrate an imperceptible code within the artwork, allowing consumers to scan the can and link through to online content. While allowing brands to capitalize on interactive engagement, this technology simultaneously supports marketing opportunities by connecting shoppers to product information or special offers online. The technology also ensures minimal interference with the branding on the can, as the code can be subtly integrated into the design.
Ana Neale, Director, Marketing and Strategic Planning, says, "As a forward-thinking company, innovation is at the heart of what we do, enabling us to stay on top of market trends to satisfy our customers' desires to stand out in today's competitive market. What's more, as cans are endlessly recyclable with no loss of quality, irrespective of colors or textures, we have unlimited opportunities for design and graphics innovation without impacting our, or our customers', sustainability credentials."
In the U.S., Ball is currently developing Cameo Print™ technology, which allows up to four colors to be used, as well as an additional base coat, on the end of a can. Making the most of the 360-degree branding opportunities offered, the additional colors broaden the opportunities for targeted messaging right before the moment of consumption. A report by The Market Creative recently found that successful brands are leveraging the power of the pack to push the boundaries of innovation. As such, Cameo Print™ technology can help exemplify this by providing more creative ways for customers to create brand engagement, such as enhancing consumer experience with flavor driven designs. In addition to Cameo Print™, Ball is also relaunching its dual color ends.
Ball's stand will also showcase the various options available to use on end tabs, which can be used in combination with Cameo Print™ and other end designs to create maximum impact. This will include colored tabs, which help brands differentiate ranges and flavor variants for their consumers, and cut-out and laser engraved tabs, with designs including smiley faces and stars, which demonstrate other eye-catching ways to reinforce key brand communication, especially during promotional campaigns.
Also available for customers to sample will be Ball's Resealable Ends (BRE), which enable consumers to open their cans, drink and then reseal their beverage over and over again, transforming the can's role and allowing consumers to enjoy their drink as and when they want to.
Marianne Freund, marketing manager at Ball, commented, "Our design options for tabs and ends are essential to achieving our goal of helping our customers stay ahead of market trends. The possibility of extending messaging to the top of the can allows customers to make the most of the can's 360-degree branding potential enabling them to interact with their customers in innovative and engaging ways.