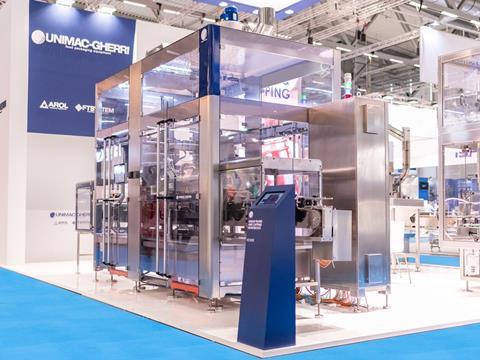 AROL Group presented its latest solutions to respond to the even more challenging manufacturers and consumers' demands of food packaging safety around the world at Anuga FoodTec2018.
AROL Group - born in 2009 from the merging of the Italian AROL Closure System (Canelli, Piedmont), founded in 1978 and FT SYSTEM founded in 1998 (Alseno, Emilia Romagna) - is a leader in the design, manufacture and distribution of capping equipment, feeding and cap orientation machines and control & inspection system for the whole bottling and packaging process (both in line and in laboratory). Recently it has been enriched by the acquisition of UNIMAC-GHERRI (Montecchio, Emilia Romagna), the specialist in filling and capping of glass containers with twist-off caps for liquid, semiliquid and pasty products.
For FT SYSTEM, specialised in non-destructive inspection and quality control both in line and in laboratory, Anuga Foodtec has been the occasion to present the results of its latest developments. Leak detection and sealing inspection: the most innovative 100% non-destructive inspection solutions for packaged food products, have been displayed on FT SYSTEM booth. In particular:
High speed in-line package leak detection unit for seal integrity.
FT SYSTEM LDS700-IoT is designed to ensure integrity of the sealed containers coming off the packaging line. Non-destructive leak detection testing is applicable to most Modified Atmosphere Packaging (MAP) products. The IR spectroscopy method for escaping gas analysis enables robust characterization of the packaging sealing process. It gives a very strong improvement for detecting very tiny pinhole leak (possibly in imperfect welds), crack or microcrack caused by inadequate sealing process.
In-line food inspection machine designed to ensure shelf-life and product safety.
The FT SYSTEM SIS 700-IoT through a special camera system detects residual product on sealing area and welding defects. Additional cameras perform the code inspection. It guarantees product's visual and nutritional appeal.
The wide range of sectors AROL works in, allows its technical team, made of more than 100 engineers, to meet the specific need of each single customer. In Cologne, AROL specialists will be available to discuss the latest capping solutions for the food industry developed to assure product quality, line efficiency and total cost of ownership. On display on our booth:
Design & ergonomics
AROL EURO VP, the best in class capper for pre-threaded plastic caps with irregular geometry or big dimension, today with a renewed design and an improved ergonomics to guarantee maximum ease of use for the operator. Here in a 5 heads version, suitable for food containers.
Hygiene on top
Completely washable, easy to sanitize, AROL NEXT PK-VP is displayed in a specific version for food sector. Here is equipped with 15 hysteresis heads with UNICHUCK, the adaptive chuck for pre-threaded plastic caps, designed to reduce the necessity to format change and improve capping application performances.
UNIMAC-GHERRI chose ANUGA FOODTEC in Cologne to launch the first linear filling and capping mono block RC-5000.
Flexibility is the keyword
The maximum of flexibility, the UNIMAC-GHERRI linear filling and capping mono block RC-5000 can handle a variety of different dense and semi-dense food products (such as jam, marmalade, tomato paste, ketchup, meat-based or vegetable-based sauces, baby-food, pâté) and containers from small, single-dose jars up to 5 kg size.
All stainless steel, is more compact than the two single machines (PF3 e GG100): W 2000 mm x L 5000 mm x H 3500 mm (not including infeed and outfeed conveyors).
It has a laminar flow cabinet to keep the working area extremely clean, separate rooms for capping machine and filler, steam suction hood in the capping area to exhaust vapours to the outside. It is suitable to fill all dense and semi dense products into glass containers to be closed with twist-off caps, with a capacity from 20 grams to 1100 grams (Up to 5000 grams max with repeated pumping). Its filling speed with products like sauces and tomato paste at 90°C varies from 5000 cph with 250cc size to 3300 cph with 1000cc size
Recently the group has been enriched by the acquisition of UNIMAC-GHERRI, the specialist in filling and capping of glass containers with twist-off caps for liquid, semiliquid and pasty products.
More info: