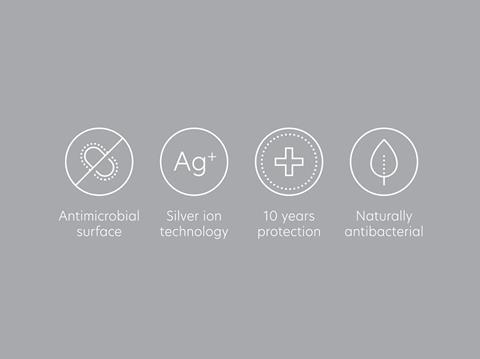 Arjowiggins has launched an antimicrobial surface treatment for paper products that it says inhibits the ability of bacteria and viruses to survive on the surface. In independent testing to ISO 21702, a reduction in human Coronavirus was seen in as little as just one hour.
Developed in response to the global pandemic, the new antimicrobial solution from Arjowiggins incorporates Biomaster™, a silver-based antimicrobial technology, to proactively inhibit the growth of harmful microbes for the intended lifetime of the product, or up to 10 years.
The solution is added to paper products during manufacture to ensure particles are more concentrated at the surface of the paper. It then works to interrupt cell growth or deactivate microbes that come into contact with the surface of the product.
According to the company, testing showed its new antimicrobial technology inhibited bacterial growth, including MRSA and E.coli, by up to 99% over a 24-hour period, and a greater than 93% reduction in human Coronavirus, in just one hour.
Arjowiggins says the surface treatment is particularly beneficial where papers are handled by multiple people or where there is a risk of microbial propagation, in hygiene critical environments such as in hospitals, classrooms and hospitality venues. It also offers added value for numerous applications, including packaging, delivery notes, medical prescriptions, restaurant menus, business cards and security papers for passports, ballot papers or cheques.
Gael Depres, central research and development manager at Arjowiggins, explains: "The idea to develop an antimicrobial surface treatment for paper products came about at the start of the pandemic when, as a business, we wanted to play our part during the crisis and beyond. We spoke to Addmaster, the UK's leading additive specialist, about incorporating Biomaster™ into our products and, once we realised this was feasible, testing was carried out to ensure the efficacy of the solution.
"In addition to inhibiting the growth of microbes, the surface treatment does not take away from the attributes of our papers, which print with the same precision and quality that our products are known for without affecting colour, appearance, recyclability or shelf life."
Sandrine Garnier, managing director of Addmaster, comments: "Our antimicrobial Biomaster™ additive provides a second line of defence against harmful bacteria. We use silver ion technology, a natural antibacterial, to offer a powerful way of providing a long-lasting barrier against harmful bacteria. It works to reduce the microbial load on surfaces to make the product more hygienic and can be used very effectively in conjunction with cleaning regimes."
Arjowiggins' new antimicrobial solution is already available across its Security Papers range and is now available on demand across its full range of uncoated Creative Papers, including HP indigo and dry toner products for digital printing. It is also compatible with all print techniques, including hot foil stamping. The minimum order quantity is set at two tonnes to help ensure it is accessible to those who need it most.
Biomaster™ is independently tested to ISO 22196 and is safe to use in medical, food and water applications. It is effective for up to 10 years and doesn't wear off or leach out, even if the product comes into contact with water. Quality control tests and environmental trials are also carried out. For further information, visit www.addmaster.co.uk