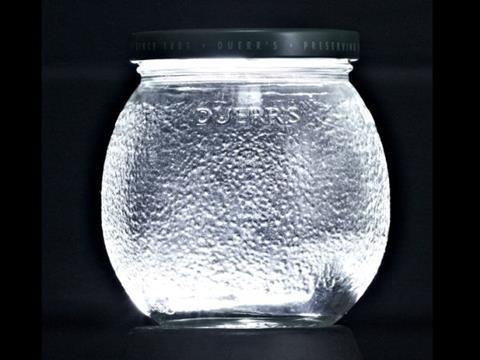 Unlike regular, two-dimensional embossing, the new process known as Sculptured Embossing allows glass sculpting to be achieved on multiple levels, creating intricate, lifelike detail, depth and dimension, enabling the premiumisation of glass bottles and jars. This technology has recently been used to replicate different texture effects including wooden planking and citrus peel, as well as to enhance the definition of scripted text and other branding icons.
In the spirit sector, the technology has been used for Whyte and Mackay's Claymore Whisky bottle. A more premium look and feel has been achieved by replicating the crest artwork on the label with an intricately embossed crest on the back of the bottle. This detailed new design features embossing across five different depths to add definition to the swords, scrolling, rose petals and banner.
Robert McIndoe of Whyte and Mackay says:"We are delighted with the new embossing, it looks terrific and improves the shelf stand-out and aesthetic appeal of our packaging."The technology has also been used in the food sector to add texture and expression to glass packaging in a way that is incredibly lifelike. A recent example is the new Duerr's Citrus Jar, which is sculpted to look like a citrus fruit with its peel effect.
Duerr's Managing Director, Mark Duerr who originally presented Ardagh with the challenge to create a tactile jar with a peel effect, was delighted with the result, saying:
"The Ardagh design team applied their expertise and embraced new technology to find a balance between meeting the aesthetic of the design brief with the practicalities of volume production."
It's just one example of Ardagh's exploration into crossover innovation, by embracing technologies and techniques from other industries. John Oczabruk, (OEG Mould Design Engineer - Glass Europe), explains how it works:
"We use a haptic device to tug, pull, carve and smooth the on-screen 3D model by hand, and feedback lets us feel how we're sculpting the design. It means we can add so much more artistic flair to create lifelike texture and expression, which isn't possible with conventional embossing."
This new innovative technology has also delivered benefits in terms of quality at the design stage: the 3D model is fully relieved with no undercuts and all sharp mould edges are removed, so Ardagh can give mould suppliers the exact model of the embossing design, ready for machining.
Carsten Berkau (OEG Design Manager - Glass Europe) comments: "The technology has brought benefits in terms of both design aesthetic and quality improvement, which has made it a real win with our customers.
"Following its success and positive customer feedback, we have invested in two in-house design licenses for the Sculptured Embossing software, which are available to our glass customers worldwide."
More info: