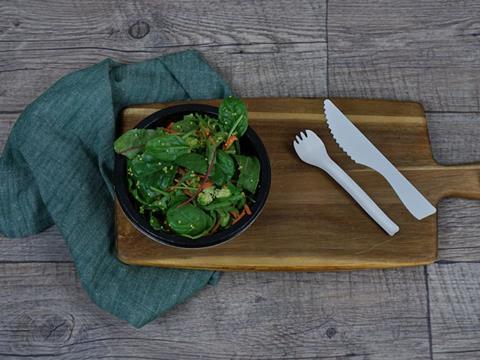 AR Packaging aims to meet the increasing need for replacement of plastic-based cutlery and has teamed up with the food service distributor Bionatic to launch a fibre-based cutlery range.
Since the European Single-Use Plastics Directive (SUP) was introduced, both consumers and member states have started to reconsider many plastic packaging items on the market. By 2021, plastic cutlery will be banned in the EU. While targeting some of the issues related to unrecyclable items and potential littering, the demand for eating on-the-go will remain. There is therefore a great need for a new generation of food service packaging to fill this gap.
ÅR Packaging Group AB has teamed up with Bionatic GmbH & Co. KG, a food service packaging distributor, to launch a range of fibre-based cutlery. With the companies' combined understanding of fibre products and market demand, they plan to offer a series spoons, knives and forks in full commercial scale by the end of 2020.
Together with Bionatic, the company has developed a set of cutlery which it says can compete with plastics in terms of strength, weight and barrier properties. The new cutlery range is designed to be repulpable, compostable, biodegradable, FSC certified, sourced from European wood and without any plastic content. Thus, it is fully designed for recyclability.
"With Bionatic we have a dynamic and entrepreneurial distributor of biobased packaging items for Quick Service Restaurants (QSR) on our side. They help to speed up processes and ensure product acceptance through direct consumer engagement," says Ralf Mack, Innovation Director at AR Packaging."Being one of the leading wholesalers of sustainable food service packaging we believe it is better to process renewable raw materials than to use finite resources. We are therefore delighted to cooperate with AR Packaging and be able to offer fibre-based solutions as the next generation of food service utensils," says Michael Brink at Bionatic.
The new fibre-based cutlery is the first in a range of innovative food service items to enter the market. Next projects in the pipeline include fibre bowls, trays and containers.