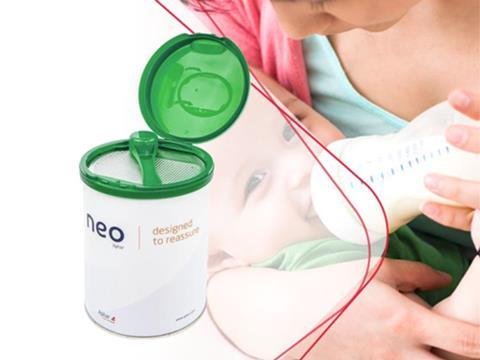 Aptar Food + Beverage's Neo closure solution for the infant formula market is now available in food grade renewable feedstock material based on the mass-balance approach.
This announcement follows the recent news that Aptar Freyung has received ISCC PLUS - Certification, enabling the use of renewable feedstock material for its closures production.
This polypropylene (PP) closure is made using renewable feedstock derived from different renewable sources, such as used cooking oil and residues from oil processing.
From a technical and manufacturing perspective, Aptar says that new-quality or filling line evaluations are not required to process the news solution.
In addition, the company claims that as the resin's characteristics are the same as conventional feedstock, the closures keep the same level of safety and convenience.
One of the main goals of the product is to help infant nutrition brands to achieve their sustainability goals related to the reduction of CO2 emissions, and to incorporate renewable material content via the mass balance model.
In a statement, the company said: "Aptar continues to demonstrate its commitment to designing product and processes with people and the planet in mind. We remain dedicated to developing and innovating solutions while addressing recyclability and reusability, resin conversion and sustainable design."