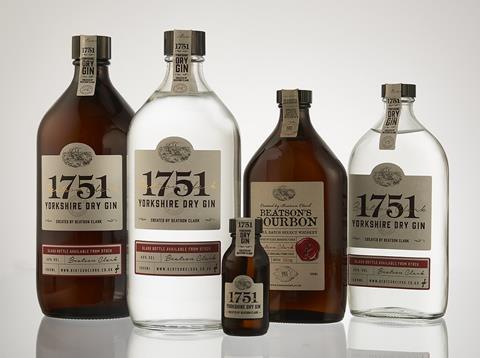 The craft spirits sector is booming – and some artisan distillers are turning to Beatson Clark's new apothecary range of bottles to ensure their product stands out on the shelf.
Forty-five more distilleries opened in 2016, taking the total to 273, as consumers develop a taste for small batch, high-quality spirits.
The number of distilleries in the UK has increased by 135% since 2010, according to The Drinks Business.
Gin is particularly popular as it's relatively simple to produce and lends itself to a wide variety of flavourings to suit all tastes.
Glass manufacturer Beatson Clark offers both bespoke designs and standard bottles from its general sale range, but its apothecary range is proving especially popular with artisan producers.
The bottles were originally designed as pharmaceutical containers for medicines and tonics, and their vintage look and unusual shapes mean they can give a new craft spirits brand a distinctive, retro appearance.
BrewDog was among the first to use Beatson Clark's pharmaceutical bottles for its LoneWolf gin – they chose Beatson Clark's 500ml Sloping Shoulder Flat bottle for the prototype gin they launched in April.
"Customers often ask us for something different from the traditional bottles in our standard range but without the price tag and minimum volumes of a bespoke design that's unique to them," said Charlotte Taylor, Marketing Manager at Beatson Clark.
"Our pharmaceutical bottles are proving a popular alternative to the usual shapes on the market, and they look fantastic – very distinctive and appealing.
"Customers can even have these bottles embossed with their own name, logo or design, and the resulting bottle will still cost much less than a bespoke container that we've designed for them.
"We've noticed a trend recently for brands to choose bottles and jars that were originally designed for something else – ready-mixed cocktails in a food jar, for example, or tomato passata in a beer bottle.
"This latest move by spirits brands using pharmaceutical bottles is just the latest expression of that trend, and it's one that can be extremely effective."
The value of gin sales alone has increased significantly in the UK over recent years, according to accountants UHY Hacker Young.
Sales surpassed £1 billion in 2016 and are expected to rise to £1.37 billion by 2020 as gin enjoys a renaissance among consumers.
Beatson Clark is the UK's only manufacturer of pharmaceutical glass bottles and jars and holds a wide range of shapes and sizes to suit customers' requirements.
The range includes Winchesters, Tablet bottles and jars, Alpha Sirops and Sloping Shoulder Flats with a variety of neck finishes. Most can be produced in either white flint or amber glass and several are available from stock.
More info: