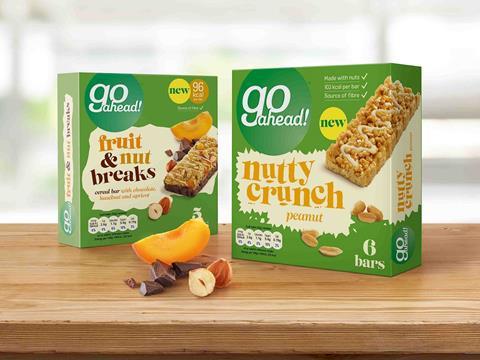 Anthem Worldwide, the global creative agency, has continued its partnership with Pladis, to develop brand identities and packaging designs for two new products under the 'go ahead!' brand.
The go ahead! brand launched in 1996 as a lighter alternative to traditional biscuits and is now one of the UK's leading health & wellbeing snacking brands. More than one in five households buy go ahead! products and the range offers a variety of delicious snacks including Crispy Fruit slices, Yoghurt Breaks and Fruit & Oat breaks.
Anthem was briefed to create a visual identity and packaging designs for the new launches, 'Nutty Crunch,' a nut covered biscuit and 'Fruit & Nut breaks' each comprising two flavour variants.
Mark Lloyd, Anthem Creative Director commented: "We've developed a contemporary take on the 'go ahead!' brand by adding more fun to the pack through lively, appealing typography packed with personality. The taste experience is brought to life through a characterful graphic treatment, while an uprated photographic style showcases the delicious appeal of the snacks."
Christopher Owen, Marketing Controller at pladis UK&I added: "Anthem has neatly hit the brief to communicate the taste and brand character of the new range and we're really excited to see them on shelves."