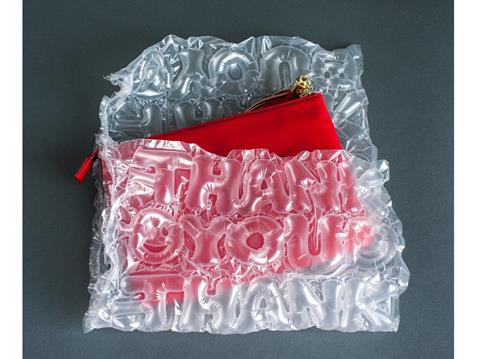 Retailers looking to stand out from the crowd and make a serious impression need look no further than Sealed Air Bubble Wrap® IB Expressions which is now available through Antalis Packaging.
Designed to delight, the Expressions range is a bubble wrap solution with a difference; it is an on-demand inflatable cushioning solution that, asides from providing 30 per cent better protection than other bubble of the same size, can be customised to accentuate any brand proposition. From creative patterns such as hearts, stars and smiley faces through to logos and other bespoke designs, all coupled with a wide choice of vibrant colours, the result is a truly unique packaging experience.
This latest activity comes as research reveals that packaging has never been a more important part of the brand mix; 68 per cent of shoppers are more aware of packaging than five years ago and 76% say that packaging impacts their retailer perception. The same study also found that 87% of shoppers would more than likely do business with a retailer again if they had a positive online purchase and delivery.
Scott Tuckey, product manager for packaging at Antalis, comments: "The retail packaging category has evolved dramatically in recent years in line with the advent of e-commerce. After with more and more customers purchasing online rather than physically going into a store, the package is typically their first tangible experience of a brand – and it can make a lasting impression.
"As such, the standard cardboard box will no longer suffice; it's about being creative with the choice of materials, both outside and on the inside, as a way to accentuate the brand proposition. The Expressions range is a perfect example of this, be it bespoke logos or campaign concepts through to seasonal patterns, it's a simple but really effective way to stand out from the saturated retail crowd."
Asides from widespread creative possibilities, the Expressions range is also extremely practical. It's clever construction negates the need for excessive wraps and void fill, meaning less waste, while the best-in-class equipment means maximised throughput with on-demand, easy-to-use inflation. Also, it inflates on site using lightweight, responsible packaging material thereby reducing the shipping transportation impacts incurred by conventional packaging materials.
Scott adds: "Combining a real fun factor with a raft of practical benefits, Expressions is the ultimate choice for retailers looking to delight and surprise customers – all while providing an unparalleled level of protection."
More info: