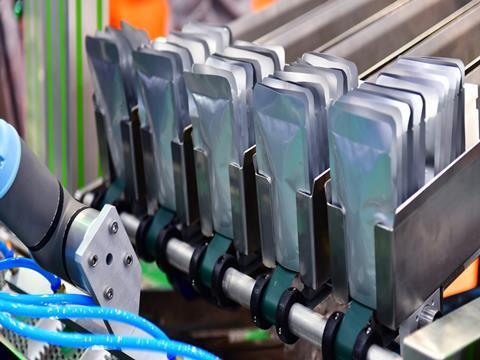 Flex Films, the film manufacturing arm of flexible packaging group UFlex, unveils its new patented bi-axially oriented polyester (BOPET) high barrier film, F-UHB-M, which it says is designed to replace aluminium foil in flexible packaging applications.
The company adds that F-UHB-M comes with oxygen and moisture barrier values of 0.1 cc/m2-day and 0.1 gm/m2-day respectively. The barrier gas and moisture performances are retained after incorporating F-UBH-M into a multi-layer laminate structure, according to Flex Films.
In addition, the F-UHB-M's metal adhesion of 1200 gm/25 mm is reportedly "industry-leading" and extends the product shelf-life. F-UHB-M offers a thickness of 12 microns and a coating technology, with high optical density, that is compatible with a range of inks and adhesives.
According to the company, the F-UHB-M's properties enhance machinability and handling during processing, generate less scrap during production, and come with flex crack resistance, as well as 20% increased puncture resistance vs other BOPET grades.
The new film reportedly has an "advanced" in-line inspection mechanism to ensure the consistency of its barrier properties. Flex Films claims that it has a lower pinhole density than aluminium foils, which makes it less susceptible to gas and water vapour leakages.
Flex Films says that the novel film is aimed at helping the converting industry move from 4-ply laminate structures with aluminium foil to the recyclable 3-ply laminate structure offered by F-UHB-M, which is apparently easier to recycle. It adds that the F-UHB-M is intended to help customers reduce laminate weight and decrease costs, while also meeting sustainability targets, such as a reduced carbon footprint.
Vijay Yadav, business head at FLEXFILMS (USA) Inc., comments: "Gathering market intelligence, the need to find a better replacement for conventional aluminum foil was established, which otherwise comes with quite a few limitations besides being highly sensitive to damages often compromising the barrier performance of packaging.
"While developing high barrier F-UHB-M, priority was given to upscale the barrier properties matching that of an aluminum foil to deliver the best packaging experience to our customers."
The F-UHB-M is allegedly suitable for a number of packaging applications. For example, its protective barrier properties can "lock in" the flavours and aromas of food, with its metal bond strength ensuring that there are no adverse chemical interactions with the product, adds Flex Films. This could benefit customers using e-commerce to transport sensitive products for long distances.
Flex Film says that F-UHB-M is also FDA compliant, which means it can be used in applications such as pharmaceuticals and packaging dry and powdered items like dried meats, coffee, and yeast. It can apparently also be used for vacuum insulated panels and bag-in-box applications.
F-UHB-M will be manufactured in the Flex Film Kentucky plant and supplied globally.