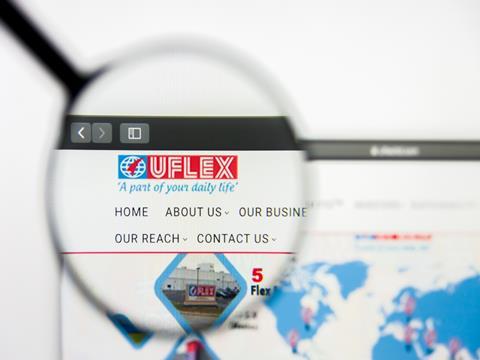 UFlex has introduced a range of new products and solutions in a bid to improve the recyclability, sustainability, usefulness, and visual attractiveness of product packaging. The innovations also aim toward product preservation, low production costs, easy manufacturing, and effective anti-counterfeit measures.
The list begins in flexible packaging with a three-layered, three-dimensional pouch with registered metallisation for Triveni's premium brown sugar. The structure of the packaging is made of PET, its window metallised polyester (MET PET) and green polyethylene (NAT PE). As well as making it widely recyclable, this gives the packaging an attractive metallic sheen without detracting from the packet's transparency.
UFlex has also announced a profile spout pouch for BigBasket Royal Organic Edible Oil. Made of PET, polyethylene (PE) and biaxially oriented nylon (BON) in a 3-ply packaging structure, the package is resealable, designed for an easy-to-pour experience and seeks to replace rigid oil containers.
A third packaging-related launch is that of a 3D pouch with paper-based barrier laminate for Beachville Coffee Roasters. This design claims to be more eco-friendly than its market competitors, as well as keeping the coffee inside the packaging fresh with its one-side valve.
Furthermore, the company has announced its new contributions to the adhesive industry. FLEXBOND SF WET LM 35 is designed largely for the wet lamination of clear biaxially oriented polypropylene (BOPP) and polyvinyl chloride (PVC) films to paper or duplex boards. Applicable with manual or semi-automatic machines, the adhesive is water-based which, UFlex claims, makes the product more sustainable.
FLEXCOTE HP 875 and HP 75 have been developed for retort packaging formats, specifically that which contains packed foods or pharmaceutical products. Their strong adhesion will allow for packages containing up to 2kg of pressure to withstand boiling temperatures of 131oC for 30 minutes.
For handling bi-axially oriented polyester (BOPET) films, UFlex has developed a new PET SILICA Masterbatch solution to control anti-blocking properties. UFlex claims to use up to ten times more parts per million of silica chips than the rest of the flexible packaging business, improving anti-blocking properties and the dosage level required for film manufacturers as well as lowering production costs.
Additional progress has been made in the field of engineering. The TOROSLIT-1650, with its high-speed turret slitter for wide web widths of 1650mm, is set to be used for floor lifting, self-shaft chucking, and toolless unwinding. It is said to come with "perfect" tension control, even when handling low gauge films from 8 microns onwards; it can also switch rapidly between rotary and razor cutters, working with high precision, and its compact design is an advantage when installing the machine into smaller spaces.
UFlex's holographical developments include a new, multi-coloured textile foil for use in the fashion industry, alongside their Fresnel lens self-adhesive labelling solution. The latter places two lenses at the middle and bottom of a label, with light reflection revealing a holographic design that should prevent the circulation of counterfeited products. UFlex's printing technology prints two identical holographic substrates over each other, which is said to prevent forgery.
It has also developed plastic-grade hot stamping foil suitable for such plastic surfaces as PVC and PP, allegedly popular with the stationary industry but also used to decorate picture frames, wall clocks, and other products.
This time last year, UFlex announced another lineup of new products in their packaging, chemical, and anti-counterfeiting divisions.
Two months later, its film manufacturing arm, Flex Films, released the BOPET high barrier film F-UHB-M in the hopes of replacing aluminium foil in product packaging.