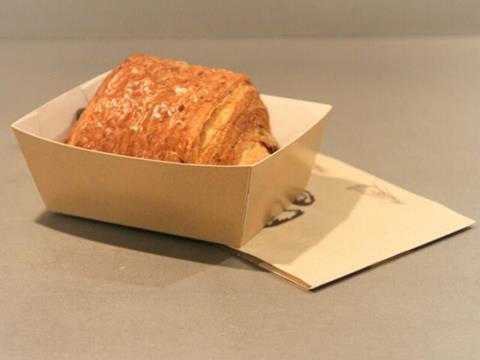 Ahlstrom-Munksjö, a manufacturer of fibre-based materials, has announced the development of LamiBak, a new range of release base papers certified according to the food contact and baking standards of the German Federal Institute for Risk Assessment (BfR).
The company describes its new range as release base papers that are sustainable fibre-based substrates for silicone coated release liners. Release liners are widely used in a variety of applications, including pressure-sensitive adhesive labels, tapes, and graphics, as well as medical, hygiene and industrial uses.
The BfR XXXVI and BfR XXXVI/2 certified LamiBak products offer release liner convertors the proven performance of Ahlstrom-Munksjö's glassine papers through silicone coating and converting for safe use in contact with food and for oven baking.
Unlike usual release papers, the company says, LamiBak's composition and certification enables the use of the silicone coated release liners into new product solutions to serve, heat and cook food in conventional and microwave ovens.
Additionally, a specific version of the product is designed to easily laminate a silicone-coated LamiBak layer to another bulkier and stiffer material, such as board or corrugated cardboard, creating a more rigid, entirely fibre-based container.
"The use of sustainable materials is increasingly important for consumers, retailers and brand owners who give preference to renewable materials, as a replacement for non-renewable ones, and look for alternatives to aluminium, plastics, PE-coated papers," summarizes Ludovica Peretto, Head of Sales & Marketing for Ahlstrom-Munksjö's Release Liners business. "The new product is aligned with this trend and follows our strategy of continuous development and customization in our release liner range. This gives our customers the possibility to exploit opportunities in a wider number of market segments."
According to Ahlstrom-Munksjö, LamiBak is also available with FSC or PEFC sustainable forestry management certifications.