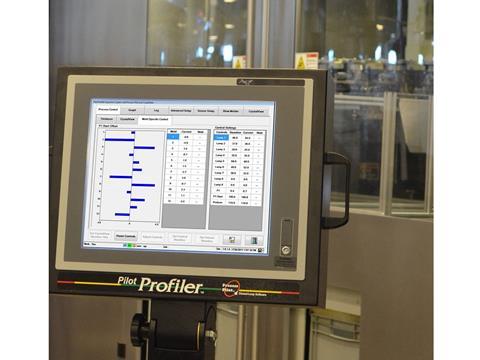 The benefits of Individual Mold Control
There are several benefits to controlling thickness distribution on the individual mold basis. These include the following:
• Reduced production variation
• Increased production days due to targeted maintenance
• Elimination of "outlier" mold-specific containers that may cause downstream issues
• Opportunities for further light weighting
• Improved down-stream performance
Availability and compatibility
The Process Pilot with the Individual Mold Control option is compatible with rotary stretch blowmolding systems that incorporate independent mold station management. The Individual Mold Control option is currently available for KHS Series IV blowmolders. There are plans to expand the mold control option for Krones and Sidel blowmolding equipment by year end. A retrofit version is also available for Process Pilot systems currently operating in the field.
Agr's Process Pilot Automated Blowmolder Control system has proven to be a vital tool in the production of light weight bottles, while improving overall bottle performance and quality. It is unique in that it manages the blowmolder based on direct bottle measurements, on every bottle produced. By controlling the blowmolder based on direct feedback from bottle measurements rather than just blowmolder performance indicators, the Agr system can ensure that the final product has the desired quality and performance attributes in spite of environmental, blowmolder or material variations that occur during the production process. The addition of Individual Mold Control further compliments this.
Agr International Inc. develops and manufactures a full line of laboratory, on-line quality and process management devices for containers and similar products for the plastic, glass and packaging industry. The Agr headquarters and main manufacturing facility is located in Butler, PA, USA.
More info: