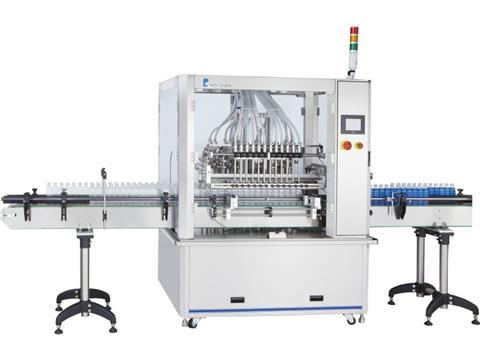 Advanced Dynamics Ltd, one of the leading packaging and labelling equipment suppliers in the UK, has relaunched its upgraded, precision filling systems that can handle almost any capacity of liquids and fluids - and are now available all under one roof.
Advanced Dynamics is the sole UK distributor of Pack Leader's cutting-edge packaging solutions. These provide pinpoint accuracy and high-quality filling in a wide range of container sizes of up to five litres for a variety of diverse manufacturing sectors, either in a line or standalone, and especially suitable for pharmaceutical, food, beverages, cosmetics, detergents and petrochemical industries.
Pack Leader's volumetric machines incorporate a servo drive system to control the main filling processes for maximum efficiency, accuracy and precise nozzle positioning, providing many different options such as above-surface filling, submerged-filling and neck-entry filling. The range of equipment is capable of handling many different types of viscous and semi-viscous products.
Choosing a filling system for liquids, fluids or oils can be a major capital equipment decision for any manufacturer, but the right investment will pay dividends in efficiency savings and have a full-on impact on the bottom line, says Advanced Dynamics' MD Malcolm Little.
Reliability, flexibility and affordability should be key requirements on the wish list of companies considering filling as part of their packaging operation. Advanced Dynamics offers cost-effective, high speed and volumetric filling of oils and liquids, including very foamy products. The FL range of fillers are ideal for the likes of cleansers, oils, chemicals, sauces, syrups, light gels, e-cigarette liquids and pharma-liquids. They can even accommodate rotundity, flat, and prism-shaped vials as well as many different kinds of stoppers/caps.
For those seeking a combination of filling and capping solutions, Advanced Dynamics can recommend Pack Leader's FC-101 and FC-102 automatic liquid filling and capping machines for the highest production efficiency, suitable for pharmaceutical, food, beverages, cosmetics, detergents and petrochemical industries.
In addition to liquid filling, Advanced Dynamics offers tube filling in the form of automatic cream and ointment filling and sealing machinery that can handle metal, plastic, aluminium and laminate tubes. The solutions are suitable for viscous and semi-viscous products like cosmetics, ointment, toothpaste, foodstuff, pharmaceutics, shaving creams, to name just a few.
Advanced Dynamics' Managing Director, Malcolm Little, said: "Our range of flexible filling and capping machines is second to none – and available nowhere else in the UK. These are highly accurate and robust automated solutions that will not break the bank, but will ensure your liquid products get to market quickly and efficiently."
A leading supplier of high quality packaging and labelling solutions, Advanced Dynamics will be showcasing the automated systems that can help transform manufacturers' profits at this year's PPMA Exhibition at the NEC in Birmingham in September.
More info: