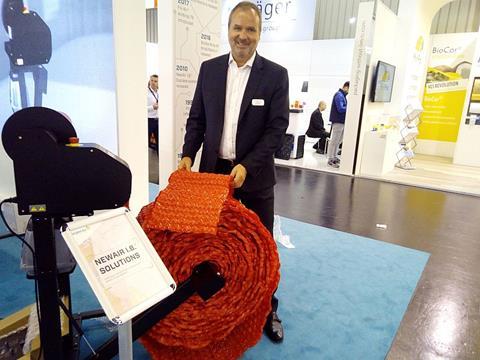 Sealed Air presented a range of solutions at Fachpack, helping companies address the operational challenges they face in a constantly changing marketplace.
Gerd Wichmann, vice president and general manager of Sealed Air's Product Care Division in EMEA, told Packaging Europe at the show: "We know the challenges businesses are facing – product damage, operational complexity, labour productivity, shipping costs, customer satisfaction and retention – and we have developed a range of solutions to assist in tackling these issues."
The e-commerce challenge
Mr. Wichmann identifies the rapid growth of e-commerce as a major challenge for companies. "Consumers expect deliveries to be fast, but at the same time cheap or even free. According to studies, 75% of people take shipping cost into account when ordering online, and may well abandon an order if shipping comes at a cost. At the same time, consumers want to receive their products as quickly as possible. On top of these pressures, it is important to provide a satisfying customer experience. The 'one box fits all' approach is over."
According to studies, the cost of damaged goods amounts to $ 20 billion worldwide. Damage protection can also play an important role in increasing sustainability, as returning goods increases the carbon footprint through extra transport needed.
"30% of freight costs are related to the speed of fulfilment and the availability at peak time. Automation can play a key role there. Providing the ability to use the right pack size to the right product can help getting more products in lorries, increase fulfilment speed and in turn makes companies more competitive," Mr. Wichmann points out.
StealthWrap™ is a durable cartoning alternative that replaces traditional corrugated outer cartons, optimizes billable weight and improves fulfillment velocity. A flexible parceling film seals and protects packages during transit. Sealed Air's I-Pack® automated packaging system provides intelligent, high-velocity fulfilment. It offers a smaller overall volume, reducing air freight and last mile costs, and savings on materials, as the need for additional packaging material is reduced. The I-Pack® fold increases box strength adding product protection. The glued pack is securely sealed and tamper-evident.
The last moment of truth
Consumers will judge a product on how and in what state it got to them, so packaging plays a major role at the last moment of truth.
"Sealed Air's Air I.B. Flex® can help with this. As an on-demand inflatable cushioning systems it offers the agility to produce air cushioning materials ranging from ultra-light for source reduction to heavy duty for damage protection, offering custom shapes and patterns to enhance the consumer unboxing experience to engineered inflatables designed to maximize damage protection. At Fachpack, Sealed Air also showcased its NewAir I.B.® Nano system – a compact inflator for low-volume and ship-from-store operations that can produce both void-fill and cushioning material," Mr. Wichmann explains.
Sustainability is another important consideration, with customers increasingly aware of the impact packaging materials can have on the environment. Sealed Air addresses this with a range of alternative packaging materials. Mr. Wichmann gives a couple of examples of products shown at Fachpack:
"EcoPure Hybrid is a fabricated foam made from a polyethylene resin derived from sugarcane and recycled content material. Korrvu® is a recyclable packaging solution that combines corrugate with plastic film to create a sturdy encasement that equally protects and presents products. A new digital tool helps companies choose which Korrvu® design is best for each product. Sealed Air innovates to deal with the challenge of reducing superfluous packaging materials and assuring optimal product protection. But we will never compromise on damage protection."
Double digit growth
The growth of e-commerce is set to continu further. Global B2C e-commerce sales continue their rapid expansion driven by the rise of mobile shopping worldwide and the robust growth of online retail in emerging markets. Between 2018 and 2021, retail e-commerce sales are expected to maintain a double-digit pace in percentage terms, according to a report from ResearchAndMarkets.com.
"Consumers will continue to look to easily order and return online. The limits are inbuilt around the sheer volume of e-commerce orders, and whether it's by van, e-bike, drone or pony express – the last mile will remain the biggest challenge. It is important to anticipate customer needs and problems and grow in a sustainable way," Mr. Wichmann concludes.